Many people we work with write in to express their gratitude for the assistance we provided in helping them get out of debt through our debt relief program. We decided to create a way for people to share their experiences with others by posting individual reviews to the site.
In 2012 we started a publishing project to share informative and tutorial based debt relief education. A great deal of the debt relief program publishing is focused on helping you understand your options to manage debt, especially when you are looking for outside help, or when trying to resolve debts on your own.
Because settling credit card debt is the most flexible option, while being the least understood, the larger portion of the debt relief program education is dedicated to debt settlement. For that reason, most of the reviews and stories below will likely tend toward that type of reader and customer. That said, please feel free to share anything about how our publishing has helped you to consolidate debt, or how you were able to resolve credit reporting errors, even better understand your consumer rights.
Share your debt settlement story, feedback, or reviews as a reader or a customer.
There are no rules for posting reviews and feedback. You may want to follow an outline of what brought you to CRN, how we compared to other options, websites, or companies you looked into. It would be great for others who may read your comment to know what you were/are dealing with, and what the ultimate result of working with CRN, or learning with us, has been.
Just have fun and express yourself!
Not everyone we consult with qualifies to follow our more aggressive approach to dealing with debt. Many of you we consult with still appreciate the time we take to inform you of what debt settlement really involves after having contacted other service providers, or having visited websites that may be a little light on the details.
Even those looking for one on one assistance and guidance from CRN may not be recommended to work with someone in the network. But our consults are often a refreshing dose of blunt honesty for people just looking for information and answers they can trust. Readers and those who have spoke to us on the phone are invited to share too!
Tell you what… if you having anything to share about CRN, or the debt relief program guides and feedback we publish – chime in! We look forward to hearing from you!
You can identify yourself using your initials or first name only, unless you are comfortable sharing your identity, like some of our other members who have been covered in the Wall Street Journal, Washington Times, USA Today, Chicago Tribune, Detroit Free Press and several other publications.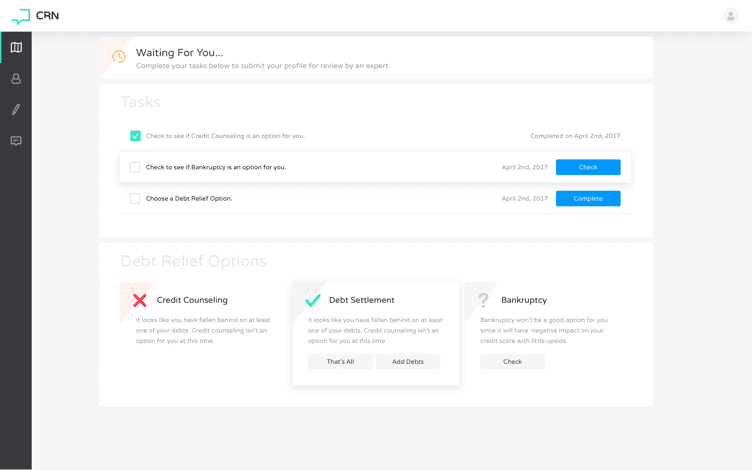 Get a Settlement Estimate
If you've fallen behind on your payments, then we can help you settle your debts with your creditor directly through our platform.
Get Estimate
Get a Free Consultation
Getting out of debt is confusing. Signup today to get a free debt consultation and we'll show you your best path out of debt and help you get there.
Get Started
Have a Quick Question?
We have experts standing by to answer any questions you have about debt settlements, lawsuits and judgements.
Ask a Question