Our credit and debt relief videos, below, range in topics from deciding the best way to tackle your debt using conventional wisdom; settling credit card debt for less; using a credit counseling agency; or if/when filing bankruptcy makes sense, and so much more.
You can also view these videos on our DebtBytes YouTube Channel organized in playlists by topic.
Each of these debt videos covers specific topics, tips, tricks and "how to" details about resolving debt that you just won't find anywhere else. Hover over any video below and click the red play button in the center to watch it.
If you have a debt- or credit-related video topic you would like to suggest I cover in a video, please post your suggestion in the comment section at the bottom of this page. If you have questions about anything after viewing any of our videos, post those as well.
Subscribe to Our DebtBytes Channel
Settled for Less VS Paid in Full on Your Credit Report
Debt Collection Inquiries on Your Credit Report
How long does it take my credit report to update after paying off debt?
"Pay off Debt - Your Birth Certificate is Worth Millions" - Busting Myths
"NEVER Pay a Debt Collector" - Busting Myths
Declined for a credit card? It's possible you've been blacklisted.
Not All Debts are Sold: Contingency Collectors
Settling Small Debts Compared to Larger Balances
National Collegiate Trust: Student Loans
How little do I have to owe to avoid getting sued?
Settling Multiple Accounts at Once may Save You Money and Grief!
Are you judgment proof against getting sued?
How to Quickly Lose a Collection Case in Court
How Warehousing of Unpaid Debt can Affect Your Settlement
Should you negotiate debt into monthly payments?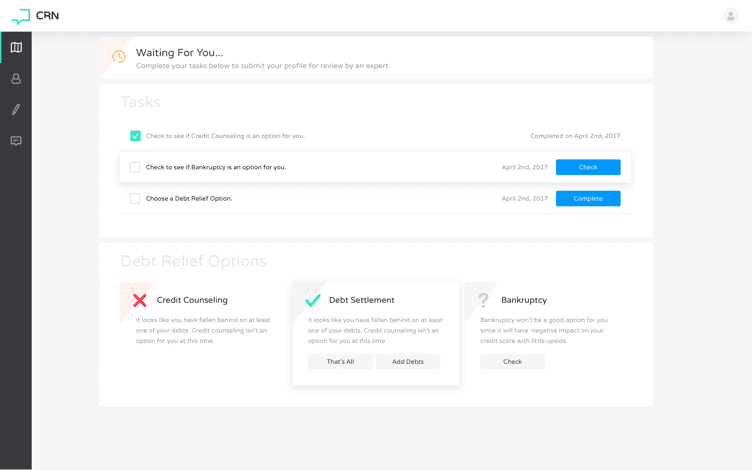 Get a Settlement Estimate
If you've fallen behind on your payments, then we can help you settle your debts with your creditor directly through our platform.
Get Estimate
Get a Free Consultation
Getting out of debt is confusing. Signup today to get a free debt consultation and we'll show you your best path out of debt and help you get there.
Get Started
Have a Quick Question?
We have experts standing by to answer any questions you have about debt settlements, lawsuits and judgements.
Ask a Question