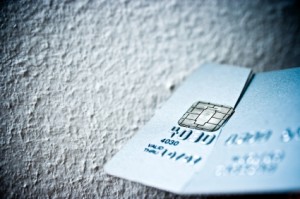 Currently the cost of money for the banks is next to nothing, but they loan it out charging consumers as much as 30%. That is quite a spread!
The argument I hear for high interest rates is often one of risk. The banks use available data from resources like your credit report which may (or may not) suggest that your behavior reflects a higher risk of default. This risk data is then used, by applying some twisted logic, as justification for increasing your interest rates. Let's see… some arbitrary or even actual data shows an account holder is at higher risk for not being able to make one of their payments and so the bank's solution is to increase your rates making your payment higher than those at a lower risk. Gee… that will assure timely payment! How's that working for ya Mr. Banker?
Judging from the increase in bankruptcies, delinquencies and charge offs… Not so much!
People walking the payment ledge do not need a push off of it.
Obviously, the current job market is adding to the payment pressure consumers are under, but even those who are employed are often just one interest rate increase away from the edge of a financial cliff. I speak to them daily.
This Bloomberg article from yesterday: A CLUE, shows that some in a position to affect change, via the proposed legislation, actually get it.  It doesn't take a crystal ball to see that a cap on interest rates will provide for a future where consumers can actually afford to borrow, spend, and successfully pay back their debt, thereby assisting in an economic recovery. There are lawmakers who possess, or are willing to borrow from their constituents, the backbone needed to support a return to sound lending principles.
Yes, I understand that we are approaching an election cycle and perhaps there is a desire by politicians to look good at home, but this legislation has never been more relevant than it is today.
Let's hope it gets the traction it needs this time!
For anyone struggling with the credit card payments, and who could manage the situation better if the interest rates on the cards were lower, could benefit from consolidating the bills, or perhaps talking to creditors selectively.
Shunning credit.
There is a growing movement of people who do not use unsecured revolving credit, or who are shunning credit.
Debit cards tied to your checking account offer the same type of purchasing flexibility that a credit card does. And you can overcome fraud and hacking concerns by having a debt card tied to an specific account that you keep only so much money in.
Prepaid credit cards have quickly become a way to shun revolving balance credit cards. If the fees on these cards become more reasonable, they will be an even better answer to bank issued plastic.
I would love to hear from people in the comments below if you have reduced or eliminated your credit card use. How much have you replaced credit card use with your debit card (prepaid or not)? What are your thoughts on interest rate caps?