What to Do When Fake Debt Collection Scammers Call
I got a phone call message which said someone would be by my home and place of employment to give me a summons. That kinda startled me. Then later I called the number back and spoke with someone. They said I had this old debt, I told them that I never had such a card. They then told me that I should be getting served a summons and would need to fill out my court documents. But, if that happen yet I could settle over the phone for .50 on the dollar.
They didn't know who was supposed to serve me (sheriff) and didn't even know where I lived. They just rattled off addresses.
They kept threatening that the court date would be set as soon as the guy showed up at my house.
In haste I made a payment in full (reduced amount of course) to settle and not go to court!
Thinking back, they totally got me! I totally drew a blank on the SOL.
What tricked me the most was they said I, or someone, had made payments for the last 10 years... Yeah right!
So what do you the best course of action is here? I paid on a credit card and was just going to pay it off (keeping a zero balance is habit now).
Should I cancel the payment? Did I screw up the SOL?
They also emailed me a contract but I haven't read it so haven't signed it.
I was thinking to reply that they need to state they won't take me to court and that they have called off the summons... Basically get them to admit to their illegal bullying threats so I could collect the fines from them.
What do you advise? Thanks.
Was I just scammed by a debt collector? What can I do now?
—TJ
Believe it or not, there are varying degrees of debt collection scams. And it is because of these differences, my feedback to people who interact on this, and other sites I participate on, can change. I wish things were more cut and dry, but because licensed and bonded debt collectors can say and do the darnedest things, even when they are collecting legitimate debts, there are blurred lines. Add to that the fact that fake debt collectors continue to get better at… faking it, things can become less clear.
What to do, and how to go about doing it, when you suspect you are being called by an outright debt collection rip off artist, can be different than when you are dealing with a debt collector crossing the line with their unprofessional actions. I am going to focus on the fakers first.
When Fake Debt Collectors Call You
There has been a rash of fake debt collection scams of late. Ten years ago it was not something I would run into. Nowadays, between my site, and many others that are part of my daily activity and news feed, I see a reference to some fake debt collector on a near daily basis. And some of what I see shows that the scam is getting more sophisticated.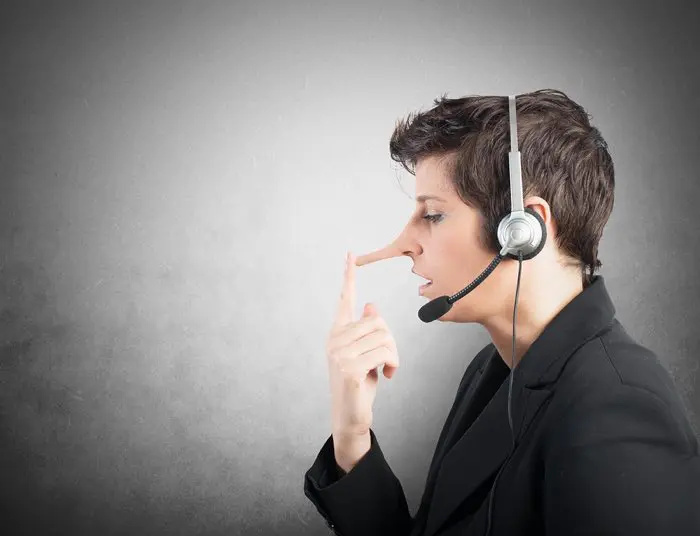 Here are some things to look out for from a debt collection scam phone call.
The debt collector opens the call with an immediate sense of urgency statement. This would mean saying something with an or else that packs a punch, like; you are going to be sued later today if we cannot get a payment set up right now; there is someone coming to your work to serve you a lawsuit.
Legitimate debt collectors and process servers do not make these threats. They just show up. The fact is, virtually any debt collection lawsuit that someone took the trouble to file, is going to serve you with it before talking word one about payments. That is just how that kind of escalated collection action works. There is such a low probability that a legitimate debt collector will both threaten you with an "or else" set to happen same day (or close to it), while simultaneously suggesting your payment will put a stop to it, that the chance of this being a fake debt collection scam are high.
A debt collector mentions anything about your arrest.
There are very limited instances where you could be arrested for not paying an unpaid bill. Court fines and fees reach to that level, and so can unpaid child support, but unpaid credit cards and other types of debt do not. An exception could be if you were sued, and there is a legitimate judgment entered in the court. If there was an order from a judge that you did not follow, like appear for an asset discovery hearing, it is possible to have a bench warrant out there. But that would be for failure to comply with the courts order, not for lack of payment on a civil judgment. And debt collectors do not call you up to inform you of that in my experience.
The debt collector refers to themselves as an investigator, or that they will contact the investigator on your case.
Debt collectors that are trained properly cannot act in a false or misleading manner in an effort to get you to pay. Referring to any investigator is awfully close to suggesting there is law enforcement involved in collecting the debt. This is an intimidation tactic. These kinds of words and phrases are not used by legitimate debt collectors.
They will not name the collection company they are working for.
Debt collectors are required to inform you of who they work for, and the debt they are contacting you about. Any pause with, or failure to identify themselves clearly and immediately, is a huge red flag.
Debt Collection Scams are Getting Sophisticated
Some debt collection scams are designed for the quick cash. They need to scam as quick as they can using a few phone calls to their mark, or to your family members or work place. How is it that a fake collection scam can get the information they need to really cause you stress and pressure you to pay them something?
They can learn about you, your family, friends and work place through social networks.
Scam debt collectors with a higher level of sophistication can potentially purchase data about you directly from the credit reporting bureaus, or through a data aggregator or software company, just like legitimate debt collectors do today.
A legitimate debt collector may have had your debt at one time. Perhaps they did not know their CMS or data management system was hacked, or files copied and sold to someone with a fake collection scam going.
In fact, the debt a scam collector may say you owe is something that could still show on your credit reports, or that once was on them. That is why you may recall the debt in the first place, and be susceptible to fork over some money to stop a fake lawsuit, arrest, or potential embarrassment.
Websites are now being published by some of the fake debt collection scams. When someone shares the name of the supposed collection scam company, I usually see what I can find online about them. I rarely see any company web presence. But more recently I am seeing some decently designed, but very basic websites with the scam company name, or something close to it as the URL. Legitimate debt collectors in this day and age have larger, more well put together web sites, and a strong web presence in general. Fake collectors websites that I have seen tend to have a home, about, and maybe one or two additional pages. The pages are skinny on any details and have no industry badging that you find on legitimate collection company sites.
When the Real Thing Looks Like a Fake
I was not kidding about some of the ways licensed and bonded debt collection agencies can be found to step over clear lines of consumer protection laws. It is not hard to understand why they do it. A real debt collector can have a real hard time getting paid when people are struggling to pay today's bills, let alone pay for the past.
None of that excuses bad collection behavior, and it sure does not help public perception of debt collectors.
Real debt collectors may make empty threats about you being sued. These threats may not be as direct as the fake debt collectors, but the verbiage and tone that is used can be implied to the point that is what you think you heard an hour later.
Most legitimate debt collectors do not use "or else" type of threats to collect. They can be sued for these types of tactics.
In fact, virtually everything I mention that the fake debt collectors do, a real debt collector can and often will be sued for. The debt collection laws they would be breaking are both state and federal violations. Many consumer law attorneys will take these kinds of collection violations on at no charge to you, and instead are paid by the other side. This means all of their fees are covered. You could see some money back for your trouble too.
It is imperative for everyone who is harassed or abused by a debt collector to take action. You should connect with an experienced collections violation consumer law attorney. Post about your situation in the comments below and I can provide feedback and contact details to someone who can help you.
What to do About the Scam Debt Collector
You can legitimately owe a debt, but still be scammed, whether by real or fake collectors, so… when in doubt… never pay a debt collector making threats like I outline above. If you even have a whiff of concern the debt is not yours, too old to be collected, or that the collector contacting you is either a fake, or a collector willing to step over the legal lines and violate your rights, you should:
Take good notes of any conversation.
Write down names, dates, times.
Capture the caller ID and/or write down any phone numbers they provided for return calls.
Keep a copy of any voice mail recordings they left.
File complaints with your state AG and with the CFPB when you have identified the collection company.
Speak with an experienced consumer lawyer.
Do not make, set up, or arrange for payments.
Having said all of that, I should mention again that most debt collectors you encounter are not going to be fake. They are not going to violate your rights. If you have a question about the legitimacy of a debt collector, or their behavior, lets talk about it in the comments below.
I reached out to the above reader offline to encourage getting those payments reversed. Hopefully he will share more about his experiences in the comments below.
Need some personalized help?
If you would like confidential help you can…
Not sure where to start? Click on the big blue "Get Debt Help" button.