The Debt Roll Up process (often referred to as debt snowball) is simple to understand and implement. This method to pay down credit card debt requires commitment and discipline. The approach is straight forward. You simply pay more than the required minimum payment on one credit card until it is paid off.
Once you knock down the first account, you use the same amount of money you were using to pay the first card and apply ALL of it in addition to the minimum you are paying on card two – until it is paid off.
You then take the same amount you were once paying to card one and two and combine ALL of that money with the payment you were already making to card three until it is paid off.
You repeat these same steps until all credit cards are paid down to zero. In other words, you are rolling up you money to pay off each successive balance, or using additionally money to gain momentum on paying off the next debt until your last remaining debt is being paid off with the largest amount of money, like a debt snowball rolling down hill grows in size.
Many people have success with this method. In fact, after the credit cards are paid off, some will go on to apply the money that was being used to pay credit card debt and use it to accelerate the payoff on vehicles and mortgages!
The debt roll up strategy is used by someone with the monthly cash flow that supports an ability to pay roughly 20% more than the required minimum payment on the credit card that receives the first "roll up", or "debt snowball" treatment.
Successful use of this strategy is not just about having the money in your monthly budget to support the debt payoff effort. It can often include making sacrifices.
How to Pay Off Credit Card Debt Quickly with Debt Roll Up
Changes in spending habits
How you think about money
Tracking daily spending
Curbing any tendencies to spend impulsively
Delaying gratification.
The use of a credit card, or any form of debt for that matter, can be looked at as "pulled forward demand". You are buying something that you either cannot, or choose not to, pay for in full. Delaying purchases that can be put off or eliminated entirely will help you plan around the debt roll up strategy.
The key to aggressively paying off credit card debt using money from your available budget is not to create any new debt!
Here is a basic example graph of what a debt roll up strategy would look like with 6 accounts: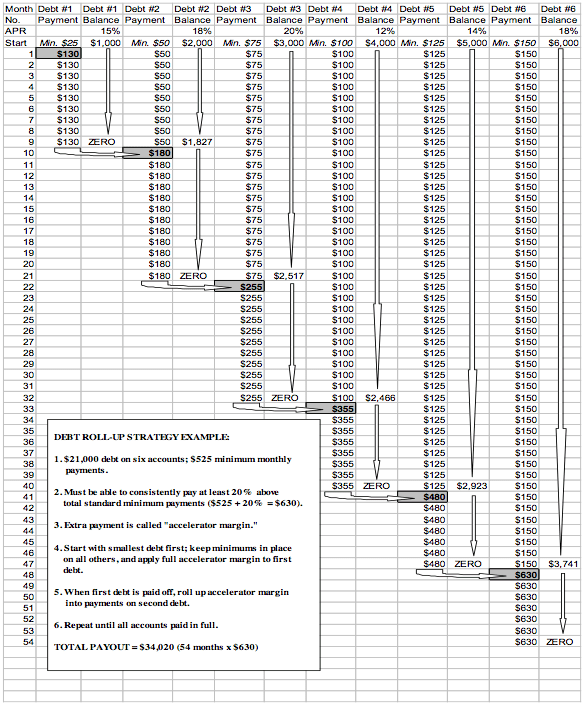 Download the Debt Rollup Calculator Here (.xls file)
The CRN debt relief program is designed to offer debt solutions that involve one on one support, guidance and service. It is rare for someone implementing a debt roll up strategy to need to pay anyone for support. If you are working with a debt roll up strategy, and have a unique situation where CRN membership would be of value, call us and we can talk about it.
Otherwise: If your credit card and other debt is a problem, but you have room in your household budget to use the debt roll up method, you may benefit from joining a community that supports this approach. Check out some of the fantastic technology tools available for free!
Debt Roll Up became more popularized by Dave Ramsey and John Cummuta. Ramsey is likely responsible for the term "debt snowball" becoming the most familiar way debt roll up is described.
If you are a Dave Ramsey fan, have questions or comments about variations of working through a debt roll up process of your own, or simply want to share your successes with other readers, you are welcome to participate in the comments below.
If you are new to the CRN site and would like to get comprehensive information about different options for dealing with problem debt, we recommend starting your review of our free online debt relief program with: Introduction to Debt Relief.