Saving money is already hard. Life is expensive and it's tough to put anything aside for the unforeseeable future. Not only does it take discipline, but you also have to find that little bit of money that you wanted to save in the first place…and maybe you just can't find it. Well, I have good news and bad news.
There are plenty of small ways to save, as we discussed in "Can't Save Money or Won't?". And, the good news is that one of the ways to save mentioned in that post is absolutely free – it's called Digit. The bad news is that you may not have heard of it until now, which means you're not using it, which also means you're not saving more money with it… yet.
But, you're here now, thanks to this glorious thing we call the internet!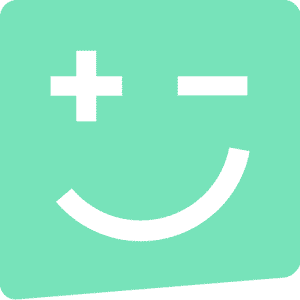 Digit is not an app or software program. I need to make sure you understand this because most everything else is, so it's in our nature to assume it's like everything else, but it isn't. It's based in texting (SMS), so although different, it's extra-easy. You don't need to download anything, and once you sign up for a Digit account and connect it to your bank account, you're all set.
Being set up like this allows for simplicity. You don't have to login and check account balances or tell it what to do. Digit already knows what to do and is going to keep you updated every step of the way. You have to trust this little (but very smart) system. For example, if you want to withdraw some money, then just text "withdraw". It will ask you how much, confirm it, and let you know what day to expect your deposit (usually one day later). Done.
If you want to pause Digit, text "pause". It's that simple.
How does Digit save me money?
Digit analyzes your spending habits and finds money to save. I know it sounds strange, but it works! Digit uses an algorithm to decide how much money to take and when to take it from your bank account and put it in your Digit account. It will differ from one person's account to another, but it's saved in small increments every few days, so you'll hardly notice it's gone. If you find that it's taking too little money, or too much, just text "save less" or "save more" to adjust it.
The best news? It's all automated. After set up, there's nothing to do but save money!
(Is it just me or are banks really missin' the boat on this one? Auto-deposit isn't enough.)
And, it updates you daily, weekly, or as often as you like, to let you know what's going on and how much they were able to save for you. You can also access your account online, but it's really not necessary, unless you want to view your savings history or have a question.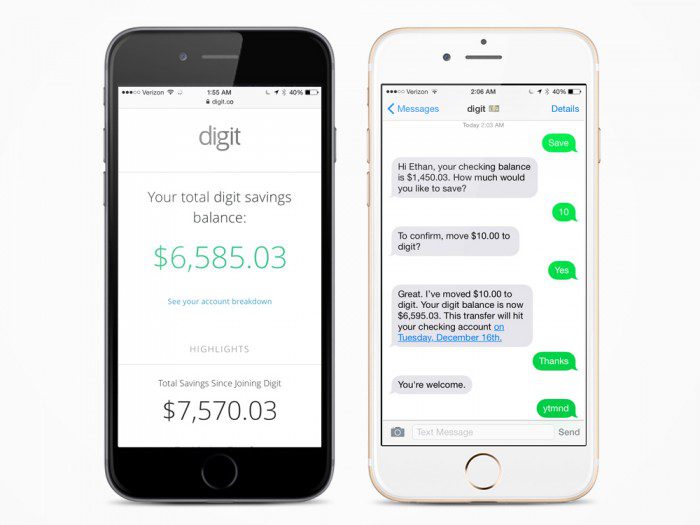 Security
I'm sure you're immediately concerned about security, like I was, so you'll be happy to know they provide bank-level security and your money is FDIC-insured. Oh, and no, they won't overdraw your account – they actually guarantee it. If they ever do, they'll pay the penalty for you. I guess they feel very strongly about that algorithm. 😉
Rewards
Digit just announced Digit Plus, which allows rewards for those who keep their money in their Digit account rather than withdrawing it. By leaving it in there, you can earn $.05 for every $100 in your account, every three months. This is a very small incentive, but as we've discussed, every penny counts. I probably won't leave my money in there because I know I can do better.
Here's what I plan to do instead.
How I Use Digit to Fund Acorns
Since I want to save money so that I can invest money, which, in turn, will make me more money, I need a plan to get started. The problem is that I've really just started to save money, so I don't have the minimums required for the larger investment companies, but, fortunately, I don't need one for Acorns.
You lost me, Mrs. MoneyJar. What the hell is Acorns?
In simplest terms, Acorns is an app that connects to your bank accounts and rounds up your debit card transactions and invests the difference in a pre-packaged portfolio (for a small fee).
I opened up an Acorns account right before I found Digit, realizing that I really wanted to put at least $100 per month into Acorns (on top of the round-ups). This wasn't possible because I was struggling to save enough to do that…until Digit.
I have only been using Digit for 7 weeks, so almost two months. That isn't very long, but in that short time, I've magically saved $150! That's just shy of what I want monthly for Acorns, but I can probably save a little more this month, so I know I'll hit my monthly target. What's crazy is how easy it was to save money with Digit – I hardly noticed it was gone from my checking account, and what this tells me is that I do have the money in there to save, but I couldn't find it because I was probably mindlessly spending it on less important things.
I'm predicting that I'll meet my $100 savings goal via Digit by the end of this month! So, each time I get my text from Digit announcing that I've reached my milestone of $100, I'll withdraw it and put it in Acorns, because I'm a beginner investor and it gives me the opportunity to help my money grow a little bit.

In the meantime, get Digit-al and save more money, because this is gonna be big.