If you say you can't save any money at all, I'm going to immediately call bullshit. You only think you can't save any money. I have been living paycheck to paycheck most of my life and I thought I couldn't save any money either, but you know what? I can. I just have to get off my ass, commit to myself, and actually do it. As it turns out, there are a few simple ways to get started.
In 5 Steps to Get Out of Financial Purgatory, I briefly mentioned how vital saving money is, but now we're going to talk about the "how" part of saving. First, let me beat you to your excuses: I can't afford to save. I don't want to sacrifice having fun. I need every penny I can get my hands on. Get over yourself. I was delusional for years too, and am just now waking up. Yeah, at 40-something. I didn't learn how to handle money in school, and my parents didn't know enough about money themselves to teach us anything about using it, saving it, or building a massive empire out of it (it's not like they were wealthy). They were broke and in debt, too.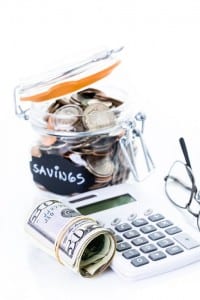 So, I'm middle-aged, with financial regrets, and little to no savings, and it's (finally) time to do something about it. I'm not helpless or stupid. I'm just out of excuses, realizing I don't want to work until I die. I have lots that I want to do! Obviously, this epiphany occurring 20 years ago would have been more convenient, but there's only one direction to go from here – forward.
Just because I don't make billions of dollars doesn't mean I can't save. Who says I have to start big? I can start anywhere, as long as I start somewhere, and I have some ideas I've recently implemented that you can start today.
Look Down to Save Up
Sometimes looking under your car seats, at the bottom of your purse or depths of your wallet are the best places to find your savings. We want to pay close attention to the little leftovers from recent purchases. Let me expand on that a little bit.
Skimming:  I don't like to budget, so instead, I take a little off the top and stash it away each time I get paid and do what I want with the rest. In essence, I'm paying myself first. I'm making myself a priority, and it feels pretty damn good. So, if you get paid at the same time every week or month, set up an automatic transfer to your savings account. If you don't, do it manually when your check comes in, or just pull out the cash and stash it somewhere safe (not in your sock drawer).
I'm not putting my savings in a high-yield savings account for a reason. I believe they're a waste of time, as rates are little more than worthless right now. Instead, I prefer to save

 

a small emergency fund, then invest a small amount and make some returns that way. I'll show you how to "start small" in investing in some future posts, because even people like us (without significant net worth) can participate in investments.
Right now, I can swing saving about 5-8% of our income, but I strongly suggest choosing the largest percentage you think you can get away with, but if it starts at only 1%, that's okay too. Start there and bump it up a percentage (or more) next month and the month after that. Consistency is what we're after – good saving habits.
Money Jars:  Hi, I'm Mrs. MoneyJar… as in Money jar. I have two money jars in my office and my children each have one, plus their own checking and savings accounts. I have one 5-gallon "jar" for loose change and one very large (gallon) mason jar for tightly rolled $1 bills and $5 dollar bills. I put money in them at the end of every single day. If you're not ready to drop your fives in there, then just start with the $1 jar and the change jar. You'll be amazed how it builds up in a month!
Going Digital:  If having a money jar nearby is too tempting, then get digital with Digit (yes, it's a referral link – because I use it, love it, and it works). Digit actually analyzes your checking account, and then decides when and how much to pull from your account based on your income and spending habits. They guarantee to never overdraw your account and you can control as much or as little savings as you like – you can even hit "pause" for a few days. And it's kind of fun getting their text updates on what they saved you for the week!
It makes saving money so easy because it's automated, secure, and free! And the weekly texts are fun and motivating. I don't have to do anything, or even think about it, and I hardly notice when money is pulled out of my account. And, if I want to withdraw, I just send a text and get my money the next day. Seriously, you can't go wrong with this if you have a phone with texting capabilities. It's perfect. I talk more about Digit and it's features here.
Small Savings = Big Future (eventually)
"It's not how much money you make, but how much money you keep, how hard it works for you, and how many generations you keep it for." – Robert Kiyosaki
These are three of the best ways I have found to get started saving in small ways without negatively affecting my day-to-day life. Doing these things (by the way, I'm doing all 3 right now) is helping me start a small savings. My current goal is to have an emergency fund of $2500 (to start) and $500 or more to invest. Your starting goal may be different than mine and that's perfectly fine, but I urge you to start small, because it's critical for your goal to be within easy reach so that you can succeed, then you can create a bigger goal.
Once I make my first goal, I'll make it grow with small, simple investments (while still continuing to save). I'm learning that there are many ways to accomplish this, depending on the type of investment, amount of money invested, level of risk, and reinvestment. The idea is exciting, though, isn't it? We're going to grow money!
My parents always told me that money doesn't grow on trees, but if we plant some seeds and make good decisions, maybe it can….