I know Purgatory sounds like a bad place to be, but it really comes down to the fact that you are, or have been, financially "stuck" for awhile. The way you manage or don't manage your money can play a huge part in this, but the good news is that it's only temporary and there are ways to clean up the mess and move forward with your future dreams, goals, and plans. No budget needed.
Purgatory [pur-guh-tawr-ee, -tohr-ee] noun, plural purgatories.
1. An extremely unpleasant experience; a temporary condition of suffering.
I'm in my 40s, married, with a couple of teenagers, and a few pets. I live in a nice rental home in a nice neighborhood with my super nice husband. We both work from home and make a middle-class income. Unfortunately, we still barely make ends meet and are part of the "almost half of Americans who aren't saving for the future" (cue gasp), and, if I'm being honest, it comes down to how we manage our money.
It's not that we haven't tried. We cut up all of our credit cards over 5 years ago. We've started a few savings accounts and "emergency funds", but there was always an emergency or "have to" to cover…funeral travel, funding a business, broken cars, debt, unexpected moves, job loss, COLLEGE, etc. We actually had to move twice in one summer because of it. The summer before, we had to surrender a car we couldn't afford due to a job loss that set us back the year before that. Life happens. This is really the first step – forgive yourself and move on.
Budget or no budget?
Budgeting is an optional step, and a powerful tool, but you have to commit to it. It's ideal for identifying problems in your finances and I highly recommend it, however, I don't currently use one myself. Why? Well, I'm just not organized and disciplined enough – and I just don't have time to go through receipts and calculate it all out month after month. Instead, I just calculate my expenses once (and update it, as needed). Another great alternative to doing a standard budget worksheet would be to use a budgeting app, which can be much more user-friendly and less time-consuming. Please feel free to put your recommendations in the comments below – I'd love to know what you're using!
Unfortunately, the one thing you can't track with even the most thorough budget is the unexpected, and there's always something unexpected. Like having to buy cheer leading gear, your laptop falling off your desk, emergency room visits, getting paid two weeks late, large appliance repairs (we had to replace our washer twice and repair our new one 3 times), gifts, KIDS (school fees, yearbooks, clothes, trips, sports, fundraisers, etc), fence blowing away (<—actually happened), or friends and family visiting. The list, quite literally, never ends.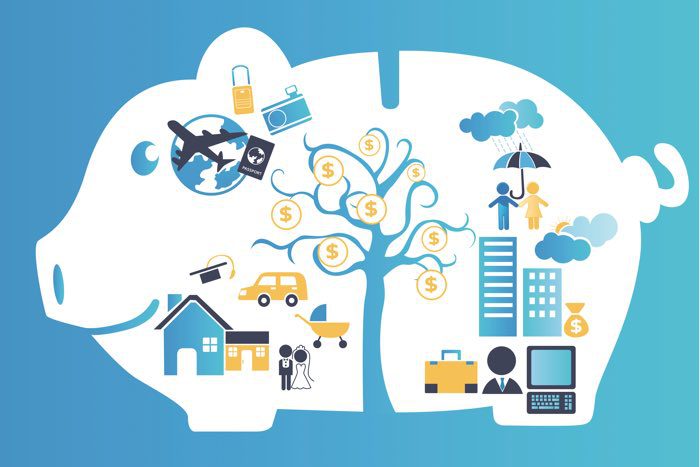 When budgeting, it can be difficult to track and impossible to predict, however, it is possible to try and estimate the unexpected, and then just make adjustments to show the actual amount spent in your budget.
Getting Down to the Money
I'm not saying monthly budgeting is the devil (it is), but it's just not for me. I prefer to just make more money and start saving without having to think about it all the time. I'm about user-friendliness and simplicity, so I have my one-time budget, change jar, and my dollar jar, which is like a mini-emergency fund. So, in our 40's, with no savings or assets aside from a beat up (but paid off) SUV, what can we do?
Start with theses basic steps to a richer life, and follow the links to continue on your money management journey:
As you can see, I'm not here to clip coupons with you. There are other blogs for that. I'm ready to get dirty, make a mess, and take control of my finances in a much larger way. I'm getting out of my own way, and leaving my own financial purgatory because this is for the damn birds. I have REAL dreams to fund!
If you want the details on how I'm doing on the Five Steps above, stick around.
"The greatest adventure is what lies ahead.
Today and tomorrow are yet to be said.
The chances, the changes are all yours to make.
The mold of your life is in your hands to break."
– J. R. R. TOLKIEN, The Hobbit