American Education Services Student Loans with a Debt Collection Agency
I cosigned a student loan for my daughter with American Education Services, and she thought it was deferred until she graduated. Which just happened last year fall semester. I have been getting calls from MRS Associates saying the original creditor won't deal with her or myself and it HAS to be handled by him.
He is demanding a full payment of $22,000+ and there is no way that this is gonna happen. First, I don't believe in sending money to people who claim to be owed it with no written verification. I have been scammed too many times. Second, I don't have any kind of money to repay that amount. My daughter has a new job working at a hospital now, and can make monthly or even weekly payments. This guy, Kevin Hendricks, is claiming that I have only the one option of full repayment or they will take legal action against me.
How do I handle this debt collector hired by American Educational Services? Is this guy for real?
—
I'm very sorry to hear about the issues you're having with AES and MRS Associates. No one should be treated in such a disrespectful manner by a debt collector. It's unlikely that MRS is going to take legal action against you, because they do not appear to have any collection attorneys, or the ability to engage in legal collections from their description of services.
A private student loan lender can only take you to court through a collection attorney firm that is licensed in the state that you or your daughter live in. It appears MRS Associates is just making an empty threat. Debt collectors are prohibited from making certain types of deceptive statements and legal threats without basis, so you may want to consider talking to a Fair Debt Collection Practices Act (FDCPA) attorney in your state to see if the collector broke any laws by making those threats. If so, you may be entitled to damages and attorney's fees. Many FDCPA attorneys will take these cases on a contingency basis and you will only have to pay them if they are successful.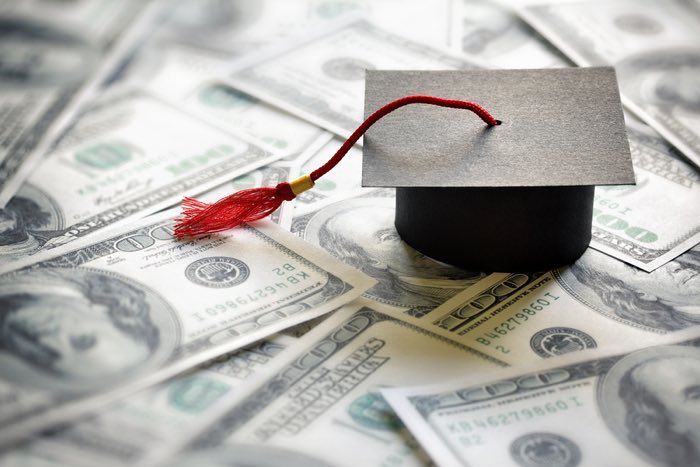 With that said, this is the typical kind of tough talk that we often see from collection agencies who try to bully borrowers that do not have experience dealing with aggressive third party collectors. The majority of people who default on private loans are unable to pay the full balance, but apparently enough of them do pay the full balance after such threats that collectors will still try to ask for the full balance to be paid when they get a new account to collect on. For the vast majority of people, this is not realistic, and there are likely other options that the collector is not disclosing.
AES is Your Student Loan Servicer
One thing that will be important to determine before putting together a strategy to resolve this situation is figuring out who your original lender is. AES is just a loan servicer, and they mainly deal with private student loans. Most often, the lender they are servicing for is the National Collegiate Trust. MRS Associates is also a collection agency that National Collegiate Trust uses often, so I would bet that's who your original lender is.
Because this collector is bullying you and taking advantage of your inexperience in dealing with this kind of situation, it may be less stressful for someone else to handle this for you rather than doing it on your own. In many cases, a professional negotiator can also negotiate a lower settlement than a borrower can, because of past experience and knowledge of lenders' settlement guidelines and collection cycles. You will want to get any agreement in writing.
Some people feel safer sending payments by cashier's check or money order with Priority mail and a return receipt. Some suggest it is not a good idea to give a third party collection agency your debit card number or bank information due to the massive amount of complaints against those agencies.
Settling with a Private Lender
"NCT" is an aggressive private lender, but there is often the possibility of settling with them or their collection agencies through extensive negotiations. If you're not comfortable negotiating with MRS Associates yourself, or feel they aren't taking you seriously, you may want to consider hiring a professional negotiator who has experience in dealing with private lenders like National Collegiate Trust.
I've done quite a few settlements with NCT, and have found them to be very difficult but ultimately willing to settle for between 40-60% of the balance in the right circumstances. We've been able to negotiate structured settlement terms with NCT of 2 years or longer, which makes settlement a much more affordable option than paying a lump sum settlement.
If settlement isn't affordable even with structured terms, you can most likely get on to a payment plan but this will likely keep the account in a prolonged default/charge off status until the last payment has been made. Unlike federal loans, defaulted private loans will rarely become current again by making payments and will instead remain in a permanent charged off status until the account is paid off. It is faster and less expensive to negotiate a settlement, but it is more difficult since most lenders and loan collectors would rather take payments on the full balance than agree to a settlement.
This is the kind of situation I deal with on a regular basis, so if you'd like to chat further feel free to call the hot line at 800-939-8357, and press option 4, or respond below in the comments.
Anyone with questions or concerns about their student loans serviced by AES; loans placed with MRS Associates for collection; or trying to develop strategies to resolve loans with National Collegiate Trust, can post in the comments below for feedback.