HSBC Debt with a Pending Lawsuit – Judgement Proof – What Next?
Retired, 65. Lawsuit filed but not yet served by atty. allegedly rep. purchaser of alleged CC debt from HSBC. SSDI sole source of income. 1 car, 1 home (<15K). Am apparently judgment-proof. I think the alleged debt is inflated, but have no money with which to negotiate, anyway. Foresee need for new car w/i 5 yrs. Have impeccable credit w/Capital One which held loan on current vehicle (never missed pmt. in 5 yrs.), so suspect they will car loan again, therefrom. Imminent need for new car is sole concern, not credit rating. Currently hold Capital One CC, also.
Have done legal research. Should I simply let them have judgment; or, should I force them to validate debt ownership, how alleged debt was arrived at and produce copy of original CC appl.?
—Richard
It sounds like HSBC sold your old credit card debt to a debt buyer. The debt buyer sent the debt to an attorney debt collector who filed suit. Some debt relief service provider that scans court records in order to send solicitations for their services sent you something in the mail that tipped you off to a lawsuit being filed. Your now just waiting for service of the lawsuit. Sound about right?
I have more questions than feedback at this point. I will list my questions first, followed by some general feedback.
How long ago was it that you stopped paying on the HSBC credit card?
What was the amount owed to HSBC at that time.
What is the amount being alleged as owed now?
Who is the plaintiff in the lawsuit if not HSBC?
Who is the attorney debt collector that filed the suit?
What is the 15k you mentioned in reference to?
What state do you live in?
Answers to the above questions would give me an opportunity to provide more helpful feedback and make additional suggestions.
Dealing with collection lawsuits from creditors differ from dealing with debt buyers suing on purchased debt.
I answered a somewhat similar question earlier today found here: Apothaker and Assoc collecting for Portfolio Recovery Assoc. Apothaker has not filed suit in that one yet. Sending a debt validation in the instance outlined in that linked answer makes sense. Your sending one with a lawsuit already filed won't likely stop you from being served and having to respond.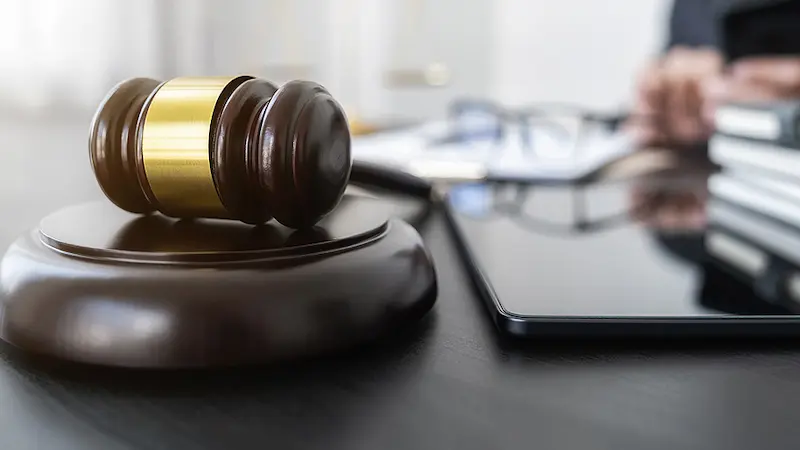 If your sole source of income is SSDI, your bank account would not be levied if a judgment was entered against you. If money other than sourced from SSDI goes into your bank account, if a judgment is obtained and enforced through a bank levy, it could be tough to stop.
If you have assets that are not exempt, like your home, you are not really judgment proof unless your equity in the home is less than your states homestead exemption. If a judgment were entered against you and you could not be garnished as a wage earner, your bank account only has SSDI funds deposited so no bank account levy, a lien may still appear against real property as allowed by your state.
Not too worried about your car if it is older and blue books at a low value.
Next, think about your "stuff". Do you have any collectibles, or other things of value, that would not be considered exempt? I am not asking to scare you. Judgments are rarely enforced by having a sheriff show up to look around at possessions that may have enough value to satisfy a judgment (that are not exempt), but this kind of thing happens. Even though rare, you should at least pause to consider it.
At this point, you can wait for service and respond to the suit. If it is a junk debt buyer, the defenses available to you are often more numbered than if the debt is still held by HSBC and they are the ones suing.
Some options to consider when you are served the suit:
Contact your nearest low income legal aid office and see if you qualify for legal assistance. Your limited SSDI income suggest to me that you may qualify.
Connect with a consumer advocate attorney in your area with experience defending against collection suits. The attorneys charge fees, but there are numerous around the country who have a great record defending debt buyer lawsuits (and creditor lawsuits).
Anyone with questions or concerns about the issues covered above is welcome to post them and get feedback below.