How to Settle Credit Card Debt with a Judgment
One of my credit cards I fell behind with sued me and has a judgment.
Can you settle credit card judgements like other debts
—Stressed
The short answer to your question is – YES! CRN does assist in settling debts like credit cards where there was a lawsuit and then a judgment entered against you. Settlements can be negotiated at all stages of the collection cycle.
There are challenges to settling credit card debts that have reached the lawsuit and judgment stage. Before I address the challenges, I want to point out that the best time to settle credit card debts is before a lawsuit is filed, and even before the account is placed with a debt collection attorney.
Watch my brief video about some of the differences between settling credit card debts with your bank and debt collectors compared to negotiating with collection attorneys whether they have a judgment or not.
While this may not be instructive to your judgment debt, you may have additional credit card debts that have gone unpaid and I want you to be aware of the following:
Settling a debt with your original creditor (the bank you had the credit card with) after having missed a few payments is not only possible, but in your best interest. In fact, reaching settlement early will often achieve the best savings result when negotiating is done correctly.
You may end up with credit cards that are charged off and placed with outside collection companies. This is the next best (sometimes the best) opportunity to settle a credit card account you could no longer afford to keep payments current.
If your overdue credit card account lands in a collection attorney's office, you can still settle the debt before any court action is filed, or at a minimum, negotiate favorable payment terms.
There is a science to navigating the collection stages I briefly outlined above. Timing, balances, who your credit card debts are owed to, and your ability to come up with the money needed to settle the debts – all will affect the strategic design of which account to settle with first, second, third etc…. It is important to have a plan to follow if you want to systematically and successfully settle debts and save the most money in the process. CRN is excellent in assisting people in this regard.
If you want to learn about how to settle your debts no matter what stage of collection you are in, we have a ton of resource pages to help you. I recommend starting at the beginning of my debt settlement section.
If you are floating out there with several unpaid credit card accounts with no real financial resources to handle the situation, or a plan for doing so, you owe it to yourself to learn if you would be better off filing for chapter 7 or chapter 13 bankruptcy before a lawsuit is filed, or now that a judgment exists. You can consult with a bankruptcy attorney for free. I recommend talking with more than one.
Collecting on credit card judgments can be challenging too.
The primary ingredient found in any debt settlement recipe, whether there is a judgment or not is… money. If you have enough of this ingredient you need to be aware of a few things.
A judgment is just a piece of paper. It's the court sponsored enforcement of that piece of paper that is the problem. You could end up with liens placed against your real property, your bank account levied and wages garnished directly from your employer. There are even instances where a sheriff can show up to take a look around at your "stuff" and inventory personal items that can be taken to satisfy a judgment (this happens, but relatively rarely).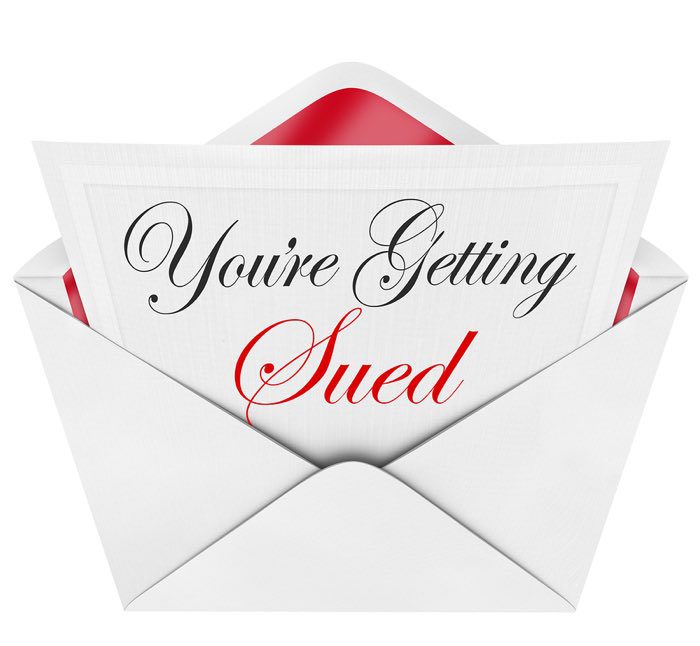 Judgment debt, whether past due credit card bills, personal loans, medical bills and other debts, are easier to negotiate and settle while maximizing your percentage of savings results if:
A bank account to levy cannot be found because one in your name does not exist, or does exist but is maintained with little money in it;
If a W-2 wage source cannot be located to garnish and;
Where there is no real property lien, or where the lien is filed, but has been in place for some time and remains unpaid.
The one thing you can control is whether you have a bank account with your name attached. If you do keep a bank account open, realize most bank levies are attempted at the beginning, middle and end of the month – when you are most likely to have deposited a pay check, or other money to cover bills.
If you have sources of funds electronically deposited, you may want to elect to have paper checks issued to you until the credit card judgment debt is resolved.
The lien on property will generally not involve forcing the sale of the property in order to satisfy the judgment. You should look to resolve the judgment prior to selling the home (negotiate a settlement before listing if possible), or refinancing (settling before a lender does a hard credit pull is often best).
Wage garnishment is a major concern. Once your wages are attached the creditor has little reason to work with you at resolving the debt for less because they will continue to get paid unless:
You prove you meet garnishment exemptions in your state
You leave that job
You satisfy the judgment
Warning: Your credit card judgment debt grows from interest and can often be renewed!
Interest is accumulated at the rate set by the court, or the maximum allowed by law in your state for judgment debt. While you may be able to be creative in how you avoid paying the judgment you must realize that the balance of the judgment is likely increasing.
If you are struggling with overdue bills and other expenses and are unable to come up with a plan to get rid of the judgment or lawsuit through a negotiated settlement or payment terms you can afford, the fact that the debt is increasing should concern you. Stop and consider what your options to resolve the credit card judgment will look like next year. The year after that.
Judgments do have a "best collected by" date, but can be renewed. Judgments have a shelf life with a time frame specific to your state. Most states allow for a judgment to be renewed prior to expiration. For many, this is a ten year time line and renewal allows for an additional 10 years. That's a 20 year shelf life!
Identify all resources you can tap to fund a settlement offer or payment plan successfully. If you cannot reasonably come up with the money to settle the debt, or make payments after reaching agreeable terms, look to bankruptcy to stop a bank levy, wage garnishment or lien on property.
Those are the unfortunate realities.
I highly recommend anyone with a judgment, that needs to be resolved in order to buy or refinance your home, to watch this video interview I had with a former debt collector: https://youtube/QpdDks73QUw
It is always best to put a plan together to address delinquent debts before a judgment becomes the concern and you are forced into crisis mode. If you have other debts, you can still put a plan together that includes resolving the judgment too, but it is important to not waste any time in doing so.
Need some personalized help?
If you would like confidential help you can use any of the boxes below to connect with me. You can also post in the comments below for feedback. I answer those regularly.
Not sure where to start? Click on the big blue "Get Debt Help" button at the top of the page.