Debt and Divorce: Divided
In Spring 2013, my then husband, had me purchase a Meat smoker and Surround sound system at a store through GE capitol. We put it under my name only, since my credit was better. In Aug 2013, we split up.
We made agreements on bills, etc. He agreed to continue to make the payments on this account until it was paid off.
Our divorce was finalized summer of 2014. We put on there that he was financially responsible completely for the GE capitol account. I then find out he he stopped making payments on it. I now, (having moved from WA to CA last fall), have received a letter from PRA stating that if I didn't get a hold of them with payment arrangements, by March 23 (I received this letter March 19), they would seek legal action and I would also be responsible for court fees.
I do not have any extra to make any kind of larger payment, I could only afford about $50 a month, if that. Also, I will loose my apt and have no money for other bills if they collect on this.
Is there anything I can do since it was finalized in the divorce that he would be financially responsible for the account?
—Jessie
Getting divorced is stressful. Part of that stress is figuring out the finances, and who will be responsible for paying outstanding bills, including credit cards that may not be in your name. When the opposite is true, where your ex spouse is supposed to pay off credit cards that are in your name, things can go very wrong.
What can be worse (depending on the situation), is the fact that divorce is often not all rainbows and sunshine — quite the opposite really. I do not know whether you are on good terms with your ex, but if you are not, and you are hit with a debt collector calling and threatening to sue on debts he was supposed to pay… it can bring up old feelings – that mix in with these new feelings – which may not be all that productive. In other words, you may have left the marriage angry and hurt, started to heal a bit, and now may be angry and hurt with new stuff when you thought you were passed all of it.
And emotion can sometimes drive us to make poor financial decisions.
With your finances being as tight as they are, my feedback about your options may come off looking more like hurdles to clear. I am also posting my feedback more broadly because I do not recall covering this topic on the site before (other than in comment replies). We can get into more specific details in the comments below. And anyone dealing with divorce and debt is welcome to post questions and concerns in the comments below for feedback.
Divorce and Divisible Property – Loans, Debt, and Other Bills
It is far better to face the division of your credit cards and other loan responsibilities in advance of your divorce being finalized. So much so, that I would encourage liquidating assets in order to payoff any loans and credit accounts that are held jointly. If you have the luxury of time to plan, along with the ability to have open and productive communications, I would encourage doing some of the following:
Close any joint accounts and pay off the balances owed. If you cannot pay off balances, still close them so that no additional charges will be made.
Get your own credit cards as soon as you separate or divorce.
Remove each other as authorized users on any open credit cards that are in your name only and that you will keep.
If there will be unpaid balances still owing on joint cards, consider doing balance transfers of equal value in order to make a clean separation.
In order to take a planned approach to divorcing your finances, you will almost certainly need to maintain good communications with your soon to be ex partner. If it is in both of your nature to plan your finances, even if you are not getting along well, or seeing the division of assets and debts equally, it is in both your best interests to part your financial ties as cleanly as possible.
Clean separations are, of course, out of the question in some divorces. And you really must watch out for yourself in this regard.
Divorce: With Debt Do We Part
Many divorces are contentious, making it difficult or impossible to plan ahead and divide debts through mutual cooperation. In that case, you have to be able to express yourself to the court and through your attorney. Even when everyone is on the same page about splitting of assets and liabilities, things can get weird.
If you are unable to liquidate assets to pay off all debts so that your finances and debts can be separated with the divorce, and if you are still able to communicate well about debt and money with your ex, or soon to be ex spouse, you may want to consider some debt relief options.
Over a couple of decades of working with people to resolve debt problems, I can think of oh so many files that would have benefited from working together to eliminate debts prior to divorcing, or by communicating well about problem debts after the split.
If you are reading this, have healthy communications with your ex, or soon to be, and will have marital debts still owed after divorce that are unaffordable , let me take you through a quick tour of the main stream options for debt relief. These are limited to debt intervention steps:
Enroll in a debt management plan through a credit counselor. This closes credit card and other accounts enrolled which is great. You will get lower monthly payments through the interest rate reductions that the counseling agency has set up with most credit card lenders. You will have a predictable amount you can budget for each month until all of the debts are paid. The problem here is that these payment plans go on for an average of about 4 years. You are not getting much separation from that.
Pull all of your cash resources together and negotiate settlements with your creditors for less than the full balance as quickly as you can. If you are already late with payments you may be able to use this strategy immediately. If not, you may need 6 months or more to work through settling bills, and longer than that if it will take more time to save up money to fund offers.
Filing chapter 7 bankruptcy while married can be smarter than filing by yourself after the divorce. This can help avoid a situation where a judge tells you to pay these bills, and your ex to pay some others, but having that later become unaffordable for one of you, but leaving the other on the hook for the balances the divorce decree said you were not responsible for.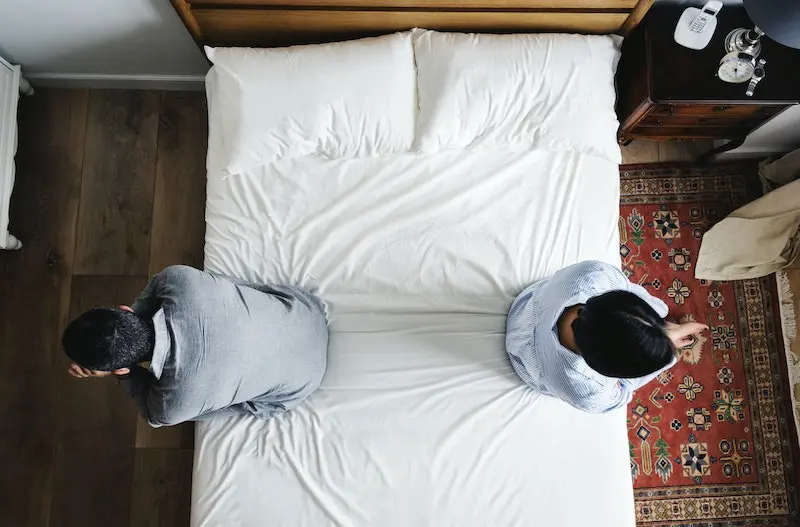 Your creditors do not care about your divorce, or what the judge said about who was going to be responsible for paying what. They just care about getting paid. If they cannot get it from your ex, they will be trying to collect from you if they can. Even if the account was never in your name, and the judge said you had no responsibility in the final divorce decree, but you acquired the loans or debts while married and living in a community property state, creditors and collectors may still try to hold you liable and sue.
Things change in/after divorce. It is much better to make a clean break from your joint finances, even if that means staying married long enough to file chapter 7 bankruptcy as a couple (which can be over in as much as 90 days). If negotiating lower balance pay offs with creditors is the path that works best for both you and the ex, assign responsibilities and share costs. And while I am an advocate for settling debts on your own, I have been a referee and negotiator on customer files with couples that were separated or already divorced. There were many cases where I do not think success would have been achievable without the outside assistance. It is not a bad idea to seek outside help to coordinate some of this.
What to do When the Divorce Decree Doesn't Go as Scripted
Here I can speak more directly to your original questions and where to go from here. How things can shake out with who gets what debts that are remaining after the divorce may not be ideal. When you end up paying an account in his name, or you are left with the assumption that accounts in your name will be paid by him (because that is what the judge said was to occur), the frustration when things do not go as planned can be maddening!
Here are some things you have to concern yourself with:
Check your credit reports regularly for any late pays. You may want to look into paid credit monitoring with alerts set to email you anytime there is a change to your credit. You can stay on top of any payments being missed by prodding your ex along, making a payment to preserve your credit, prevent accounts going to collection or worse.
If you are contacted by a debt collector, jump on any and all options to deal with the situation immediately. You may just avoid being sued for collection by being proactive. This could include making arrangements to settle or pay off the debt collectors or creditors. And may also include you hauling your ex back into divorce court to be made accountable to the agreement to pay. Connect with your divorce attorney about your options.
You may find your ex filed bankrupt leaving you fully responsible for payments. The sooner you know the extent of what you are dealing with the better.
Be prepared to accept the payment responsibility and then hold your ex accountable. That can mean going back to court. With you in another state, the costs to bring your ex back through the legal system may not be worth it.
It appears you are in no financial position to deal with the debt, or force the issue upon your ex in order to get this resolved with the debt collector. You may just need to:
Be non responsive to the debt collector and work toward quickly saving up roughly half of the amount owed and then negotiate a settlement with the agency.
Call the debt collector and relay the issue and your present financial condition, letting them know you will be in contact to resolve the account as soon as you can.
I would not recommend succumbing to debt collection pressure to make any form of payment plan that you know you cannot be consistent with, or that can cause you to not be able to meet your basic expenses.
A Quick Note to Divorcing Your Best Friend (it happens)
You should still look to disentangle your finances, even if you and your ex spouse plan on staying the best of friends. Your ex may be the epitome of responsible with their finances, and you may have never been shown any reason to not trust them. But it is not always a matter of just the ex. There is anyone they may connect with later on, and there is also rampant identity theft and major data breaches. A joint account credit card could be stolen from your ex and maxed out, thereby causing you headaches and challenges that would not have occurred otherwise.
If you have an attorney already, you should speak with him/her to get a grip on how you can meet your personal goals when divorcing. If you do not have a divorce attorney (and maybe didn't and are already divorced), talk over your situation with one.
What I covered above is just the basics about debt and divorce. There are so many more subtopics than who gets the credit card bills. Anyone with questions or concerns about their divorce situation is welcome to post in the comments below for feedback.