Because the options available to eliminate problem credit card debt are limited, I often find it more productive to use a process of elimination to help determine what would be the best debt solution. Most readers will find they can narrow down the list of debt relief options to one, or perhaps two, using the same process I have used during one on one consultations for more than a decade.
People tend to have a bias toward a particular debt relief solution, or even contempt toward some of the options available (cough… bankruptcy). Researching and choosing the option that will work for you is not a great place for emotion, or even preconceived notions. There are tens of thousands of websites, and probably more than a few thousand finance writers out there, so no shortage of coverage about debt relief. Most suggest avoiding bankruptcy at all costs, which is just silly. But I cover all of your options below.
There is also an extraordinary number of web sites that raise HUGE concerns about debt settlement, but provide little detail about settling credit card debt, or the benefits. Perhaps they do not know much about it, or are too lazy to cover the topic in the detail needed to inform their readers, or maybe it's a little of both.
I suggest checking your emotions and biases at the door. The numbers are unemotional and without bias, so I suggest working with your household income and expenses first. Using your current monthly cash flow as a qualifier will help you to eliminate debt relief options you cannot afford.
Along the way, you may recognize that some debt solution options offer you a way to accelerate getting out of debt and moving on with your financial future more quickly.
Calculate Your Debt & Monthly Cash Flow
The following briefly summarizes how to weigh your current income and monthly cash flow and compare your financial ability with legitimate options for debt relief.
Add up all sources of income you have on a monthly, quarterly and yearly basis. Next, add up all of your debts. Include all unsecured debts like credit cards and all secured debts like a mortgage or car payment. You will also want to itemize all monthly expenses such as insurance, utilities, groceries etc. Don't forget about quarterly and annual expenses such as property taxes. You can use the income and expense sheet I do.
Tip: You cannot fully grasp the best way to resolve your debts until you have completed this math.
When you have completed adding up your bills, separate the monthly payments you may be making toward unsecured accounts (like your credit cards) then add up all other monthly expenses and calculate the total. How does the total amount of monthly expenses without credit cards and other unsecured bills (personal loans, medical bills) stack up next to your monthly income? What amount of money is left over after subtracting your monthly bills from your monthly income (remember – do not include credit card and other unsecured debts)?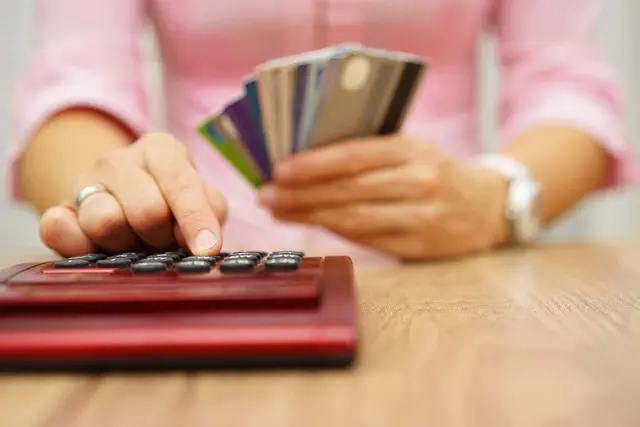 The amount of money you have left after all typical necessities are taken care of can be referred to as your debt solution fund. The amount of money in your monthly debt solution fund is what you should start with when evaluating which debt option can best apply to your unique set of current circumstances – weighed beside your personal and family goals over a 2 to 5 year time frame.
Snowballs and Roll Ups as Your Debt Solution
This debt solution works when you have a dependable and predictable income combined with a disciplined monthly budget and spending outline that you can confidently commit to.
Establish if you can consistently pay 20% over your required monthly minimum payment toward just one of your unsecured debts each and every month. If you can do this consistently while maintaining all of your other monthly obligations then a debt roll-up (sometimes referred to as debt snowball, debt stacking, debt avalanche) approach can work for you. Review the Debt Roll up Report and create a graph similar to the visual chart you see. If you have the monthly cash flow to apply this strategy on debts you are still current with, you may be surprised with how quickly you can pay off all of the credit card debts you list. If this debt solution can work for you, it may motivate you to take the same approach to quickly pay off car loans, student loans, or even a mortgage – once you completely pay off higher interest credit card debts!
There are innovative technology companies that come up with really great online tools to help you in your efforts using a debt roll up strategy. Many have several different ways they can work with you. You can automate your snowball debt solution and simplify the process. Use their smart phone apps and more. Check some out if your finances have not reached a place where debt roll up has to be crossed off the short list of debt relief options.
Credit Card Consolidation Loans for Affordability
This debt management option keeps you in control, and is a non-confrontational approach to help you get out of debt quickly. Credit card debt consolidation works when you are able to qualify for a lower interest loan that is large enough to pay off your higher interest debts like credit cards.
With the credit card consolidation loan comes the benefit of a lower monthly payment and the convenience of sending money to one lender instead of several. Using consolidation as a debt solution to resolve a high debt load is best when you have a dependable source of income and can keep your commitment to pay down debt while not creating new debts.
Consolidating credit card debt into a lower interest loan with a single payment can solve a monthly budget shortfall. This should create a monthly cash surplus that can be used to pay down the consolidation loan quicker. As an alternative to paying the debt down quicker, you can also set aside money in savings so that you can pay cash for unexpected expenses instead of using credit. If your credit card debt consolidation effort does not yield extra cash flow for savings each month, and you resort to using the credit cards again to cover monthly expenses, you may soon find credit card consolidation has only given you a temporary debt solution. You may in fact be reading this after learning this first hand.
Debt Consolidation Through Credit Counseling
You have to be able to qualify for this debt solution option. Not with a decent credit score (your FICO will not matter) and debt-to-income ratio, like when seeking debt consolidation loans. You need to make sure your creditors participate in these repayment plans (most credit card lenders do). It is a method for consolidating credit card debt into one payment through a DMP (debt management plan) traditionally available through a nonprofit credit counseling agency. Run your monthly budget numbers with a certified counselor over the phone and see if this debt solution would work for you.
Will your current cash flow allow you to pay roughly 2% of your current credit card balances monthly? If yes, look into consolidating your bills with a credit counseling agency. You can lower your monthly payments through credit card interest rate reduction. There is a great deal more to learn about debt management plans offered through credit counseling services. Additional information can be found in the related debt consolidation sections in the above menu.
If you would like to speak with a licensed counselor at a nonprofit credit counseling service agency, please call (888) 317-8770. It is a free call and you will walk away with an exact to the penny quote of what your consolidated monthly payment will be for all of your debts in the plan.
Settling Credit Card Debt for Less (Negotiations)
This strategy requires you to save up money and settle your debts (credit cards and personal loans mostly) over a reasonable time frame in order to keep from filing bankruptcy.
Can you accumulate money from monthly cash flow and other resources in order to raise a portion of your current credit card balances over the course of a set period of time? If so, negotiating lower balance pay offs with creditors can work for you. The process of credit card debt settlement is predictable, for the most part. A large portion of this website is dedicated to helping you better understand this particular debt relief option. Debt settlement is not complicated, but it does require you to be informed, and to be a participant in the process. Whether you negotiate the deals yourself, or request professionals to settle credit card and collection accounts for you, take the time to understand this option thoroughly.
Debt settlement candidates are encouraged to begin this process by completely reading all of the debt settlement content. Start with our simple settlement guide, then follow the links and use our search bar tool in the sidebar to further your negotiation education. When finished, you will know that you should try to raise roughly one fourth to half of your debt totals over the shortest amount of time possible.
Debt settlement is the more confrontational approach to debt relief, but it can help you avoid bankruptcy, and the quicker you are able to negotiate and fund settlements, you can completely avoid being sued for collection.
Filing Chapter 7 & Chapter 13 Bankruptcy
This option is regarded as the nuclear debt solution – the last resort. Filing chapter 7 or 13 bankruptcy can help you get freedom from debt and more immediate relief than other options and is legally binding on your creditors:
Can you qualify for chapter 7 bankruptcy given your states income means test?
Many people will look at all other available options before finally contacting an attorney about bankruptcy. Many readers are here because they want to avoid bankruptcy. At the conclusion of your full review of the debt relief options we have laid out for you, you may learn that a chapter 7 bankruptcy provides the most immediate and lowest cost relief from your debt troubles.
You should speak with an attorney that specializes in bankruptcy to learn more about how this option can benefit you. Most bankruptcy attorneys will offer an initial consultation at no cost. In fact, virtually every form of debt solution you look into will have someone available to talk with you about it for free. There is really no excuse for not looking into each debt relief option – that you can afford – by reaching out to professionals.
An uncomplicated chapter 7 bankruptcy can cost between $1,500 and $2,000. Let's assume your bankruptcy will have a total cost of $1,800 from start to finish. It's affordable, and if you simply can no longer meet your required monthly minimum payments, or have already missed credit card payments, you will typically focus on debt settlement or bankruptcy as a workable debt relief solution.
Combining basic math with all that you will learn will put you in the best position to make informed decisions about options for debt relief. I already mentioned that there is a great deal of misinformation and bias about different debt intervention options. But when you distill your current situation down to what you can do vs. what you heard you could or should do, you can better filter out incomplete information and the biases that abound.
The Credit Score Bias to Avoiding Bankruptcy
Many will have a concern about debt solutions and the credit report and score impacts of each. You may be wondering how long it will be before you can access fairly priced credit products again.
Combining credit reporting and scoring concerns with your current financial abilities (the math) may cause some readers to rule out bankruptcy. But once you understand the cost benefit of bankruptcy and dispel some of the myths about how different debt relief strategies affect your credit, you may find chapter 7 bankruptcy to be a mathematical winner.
You may also learn that bankruptcy would actually provide you access to fairly priced credit products in a time frame consistent with your goals, and sooner than using either a credit counseling service, or by settling your credit card debt.
Not Choosing a Debt Solution – Doing Nothing
If you're not paying debts now, or soon will not be able to, doing nothing at the moment can be a temporary and necessary part of your debt solution plan.
Not being able to come up with a realistic and workable plan to tackle debt is not that uncommon. There are many situations where doing nothing for a few months, while you wait for your situation to stabilize, will make perfect sense. Doing nothing is not a debt solution, but can often be better than committing to a debt relief path now, only to be forced to leave it for another in the near future.
Two examples where doing nothing with your credit card debt at the moment could make sense:
You were laid off or lost a job, and are currently looking for work. If you return to work soon, you would be able to qualify for credit counseling or have the ability to accumulate money to settle debts that went unpaid while you were unemployed.
Your medical concerns have created large debt. Your condition has not fully stabilized, which may mean the full extent of the medical bills is not yet known.
Debt solution options for much needed relief can be simple and straight forward. Some debt relief solutions require you to meet a set of qualifications. Other debt options methods give you flexibility. There are non-confrontational approaches, and ways to get out of debt quicker that require more of your personal participation. Our website provides detailed information and resources for evaluating and assisting you with all of the above debt solution options.