Can you settle business loans that are personally guaranteed?
I have a small sub S corporation with sole ownership. The business sells wholesale flower seed to the commercial seed companies mostly in the U.S. After 7 years of funding the business with a number of different credit lines, business credit cards, and credit from suppliers, I am finding I am just continuing to throw money down the rat hole in hopes to keep the business afloat.
The product is NOT recession proof, and sales have continued to decline the past few years. I have managed to over extend my privileges with my supplier and thus have been cut off until I can bring the account down significantly from $75,000.
Unfortunately with out a fresh supply of seed, it has become impossible to dig myself out of the hole. A classic "Catch 22"....I also owed as a secured loan (a 2nd mortgage)/business credit line to Citizens Bank in Oregon $22,000, an unsecured (but personally guaranteed by both my wife and I) business line of credit at $42,000 along with a business Credit Card with a balance $14,000, both from Wells Fargo , and a business Credit Card from Am Ex with a balance $18,000.
The bank debts are both delinquent less than 60 days. I have settled in June with Citizens Bank to protect my house, and have settled with my supplier, with return of inventory that he "still owned", along with equipment, and stuff that he was willing to take. In essence, I have not shut down the business, but rather acting as a "broker" putting buyer and seller together, hopefully being able to make a very small wage to help continue paying the mortgage. I just turned 62, so plan on looking into early SS to help supplement the income. My wife still works, but only brings home a monthly gross $3000, so I am not in a great spot to continue paying the business debts that now total $74,000.
But wait...there is more! I do have in cash, the remaining receivables that total $30,000. Wells Fargo is aware of the cash as it was in the business checking with them. Yesterday, I transferred that money to my a new personal account with a different bank, as I didn't feel Wells needed to know my status, especially when they call 5 times per day, wondering why I am delinquent with that amount of monies in my account with them.....
The question is, how can I fit a square peg ($30,000) into a round hole($74,000) , in hopes to satisfy the debts with an offer to settle with one lump sum? My other joices certainly are personal bankruptcy, but that saddens me, since I have carried a personal creit score 810 for many years.
—Dennis K
You can settle business lines of credit and credit cards in the name of your S Corporation (C corp, LLC, and DBA's too), even with the personal guarantee. The process of negotiating a reduced balance on a business loan is similar to consumer debt settlement.
There are a few additional concerns, but you have hinted at most of them with the background details you provided.
Keeping Your Business Open After Defaulting on Debts
If you want your corporation to continue operating, even after defaulting on business loans, you should expect the following challenges:
Vendors and suppliers will likely require cash payments to continue working with you.
New relationships (depending on the nature of them) could be hindered by any impairment to your D&B listing (if applicable).
Breaking any leases would likely lead to equipment repossession (not an issue for you based on what you shared above).
From what you have shared, you could keep your business going, and work from home. You already moved your accounts away from Wells Fargo – where you have accounts you would look to settle with. Do not have any vendor concerns (other than resolving any existing ones), when acting as a broker? Could you carry that out as a DBA, or is the S Corporation better designed to meet your purposes?
Settling an Unsecured Business Loan and Credit Cards You Personally Guaranteed
Your available cash suggests you can fit your square peg into the round hole and avoid bankruptcy by negotiating settlements on your business debts. Using low end estimates, based on my experience and today's trends, you could come in a little under the the 30k you have. High end estimates would mean you could settle the remaining business loan and credit cards for a touch over the money you have available.
Wells Fargo settles business accounts similar to how they settle consumer credit cards and lines of credit (signature loans). They often will treat business loans over a certain dollar amount a bit differently. And you have a loan with Wells Fargo that crosses that typical threshold. On the 42k loan you may find you need to be prepared to provide a good amount of documentation, like P&L, tax return etc. Settlements on loans this size are often only approved by senior managers, but the leg work is still handled by the typical Wells Fargo recovery department. I have seen management quickly approve settlements, and have seen VP review lead to additional documentation and/or request for more explanation on areas that raised a concern.
Wells Fargo settles business loans that meet their criteria at between 35% and 45%. What you shared so far would suggest to me that you would meet Wells Fargo approval for settlement. But you should be prepared with talking points if the recent 30k you had on deposit becomes part of the discussion when you are negotiating with them.
Negotiating and settling the Wells Fargo business credit card would likely go very similar to how they handle settlement on consumer debt. You would be targeting roughly 40% of the balance as settlement. I have seen a few credit card settlements with Wells get sticky at 45% recently (have also seen some a bit lower if the hardship is relayed well).
You cannot really get fully engaged in negotiations until you are closer to the accounts being charged as a loss on Wells Fargo's books. And there are some things you can be doing to better set the table for your settlements. But this fact – you must be several months late before you can settle your line of credit and business credit cards – should cause further contemplation and comparison to filing bankruptcy. More on this below.
Assume you settle both the business loan and the credit card with Wells Fargo at an even 40% of the balances. You have the roughly 22.5k you will need to knock those down.
Settling with American Express is something of a moving target of late. Amex does not do much negotiation and settlements directly with their account holders (business or personal). They use mostly outside third party collection agencies and attorney debt collectors. What you target as a settlement will often be contingent on who is collecting for AMEX and how long the account has gone without payment. The range of settlements are between 35 and 60 percent (if not being sued). I cannot really say what to target until you know who is collecting. Lets assume you settle the business credit card with American Express at 50%. That additional 9k on top of the amounts required to settle your business debts with Wells Fargo.
Preserving your Credit Score When Settling Lines of Credit and Credit Cards in Your Business Name
Your concern about credit score you have worked so hard to maintain, were you to file personal bankruptcy may be misplaced. You mentioned you are not yet 60 days late in paying the business loan and credit card, and these debts are personally guaranteed. Take a look at you and your wife's credit reports to see if the American Express business credit card, or either Wells Fargo accounts are showing. If any are, your being at least 30 days late on a payment would likely show by now. That means your credit report and credit score have already gone down. And because you will often need to be 4 and 5 months late in order settle for the most savings (which you need in order to fund settlements with available cash), your credit report would take a continued hit. Will it be a bankruptcy size hit? Probably not, especially if you can settle all of the accounts prior to them being charged off as a loss by the lenders. And certainly not as long of a credit impact as bankruptcy. But I can make an argument for why that may not matter to you depending on your future credit goals.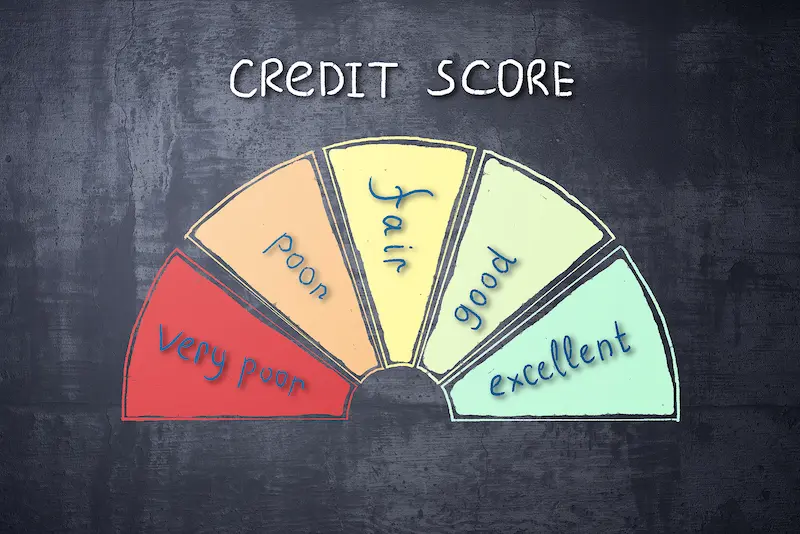 Having said all of that, you may find these business cards and line of credit are not showing on your personal credit reports. That is actually pretty common. But something strange can happen on the way to the credit reporting agencies because you personally guaranteed the debts.
The accounts in your business name may never appear on your credit reports, even with the personal guarantee. Missing several payments, followed by settling at some of the earliest opportunities, may prevent the accounts to show up in your personal reports. But I have seen many instances where business accounts suddenly begin to appear on personal credit reports once the accounts go without payment long enough to trigger the banks charging off accounts, followed by dumping them into their normal late stage collection pipelines.
Should that matter to you? It depends. I typically recommend people set aside any credit score and credit reporting concerns when comparing debt settlement with chapter 7 bankruptcy (chapter 13 would be a different story). But with your having 30k liquid, the bankruptcy trustee would want to take that money and disperse it to creditors anyway. In affect, the trustee would be settling up with your creditors the same as you could, but now you have the bankruptcy stain to boot.
There are other legitimate concerns and comparisons than credit reporting when considering personal bankruptcy with settling your business debts. Your states exemptions for other personal possessions, home equity, and more. I would recommend you consult with a bankruptcy attorney prior to committing to settling your business loans. If they recommend chapter 13, or chapter 7 raises issues that you need to avoid, settlement will work. Are there other personal credit cards with balances?
You can answer the questions I posed in the comment section below, and ask additional ones. Anyone reading with similar concerns about settling business lines of credit, or credit cards, can post in the comments below for feedback.
If you would like to talk with me, and work through strategies to resolve your business loans and lines of credit, you can schedule a call using the get help tab and the top of the page, or the box below.