Portfolio Recovery Associates LLC is one of the largest debt buyers in the country, and one of few publicly traded in the United States. Like many of the largest debt buyers in the US, PRA buys up unpaid collection accounts, mostly tied to credit cards, from Citibank, Synchrony, Comenity, US Bank, and more.
Portfolio Recovery Associates LLC purchases unpaid debt by the bundle. They pay less than the face value of the debts, and then use their own internal debt collectors to try to get you to pay.
Upon purchase of your account, PRA will typically make phone calls, and send you collection notices in the mail.
Starting in 2021 Portfolio Recovery Associates LLC will be able to start texting you, and even post to social media, trying to collect from you. You will have the ability to opt out of text and other forms of communications. More on that below.
Payment Plans and Settlements with Portfolio Recovery Associates LLC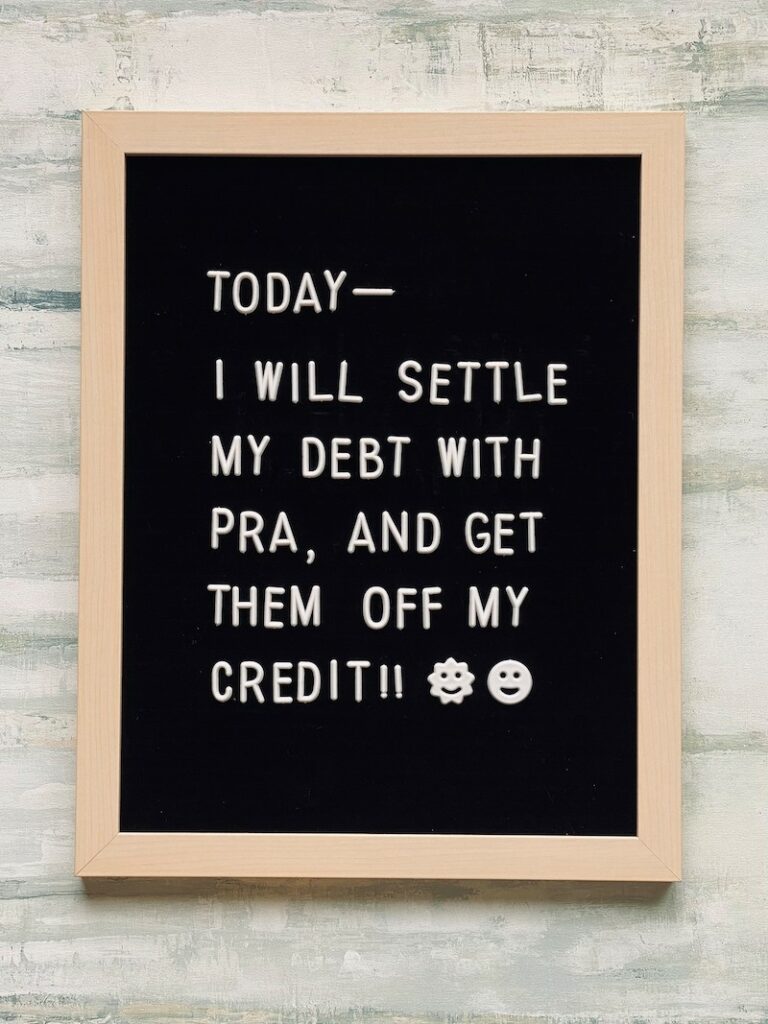 For many years I have helped people determine the priority of the collection accounts they are dealing with by risk, potential settlement savings, as well as payment flexibility. If you want to resolve a debt with Portfolio Recovery Associates you have some options to think through.
If you can afford to settle with Portfolio Recovery Associates for a lump sum you can generally negotiate a better savings outcome. Settlements are often around half the balance owed.
If you do not have a lump sum of cash to settle your debt with PRA, they are one of the more flexible debt buyers offering to spread your payments out over many months, even a few years depending on the situation. Payment plans when settling debt is a fantastic tool that can help you prevent being sued by PRA (more on that below).
Here are a few reasons why you should consider resolving a debt you have with Portfolio Recovery Associates:
You have the resources to resolve the debt.
You do not want to be sued in court for collection.
You have credit and finance goals you want to accomplish in the future and want this removed from your credit reports.
If you want help settling your debt with Portfolio Recovery Associates you can request a free estimate or schedule a call with a debt expert below.
Should You Pay PRA?
You may be hearing from Portfolio Recovery about an unpaid debt, or see them on your credit reports, and wonder if you should even pay the collection account. Here are some reasons to consider whether you can, or should pay:
You do not recognize the debt as yours.
Your debt is passed your states SOL to sue you, and you have no credit or finance goals you are trying to reach until after the negative ages off your credit reports.
You have limited financial resources to work with, or to protect, were PRA to sue you (fixed income scenarios mostly).
I have talked with many people over the years who would prefer not to deal with a collection agency, or debt buyer, when paying or negotiating a debt. But once your account is sold to a debt buyer, it would be exceedingly rare to get it recalled by your creditor, so you may have to consider working with PRA if your goal is to solve the debt, even when you prefer not to.
If you are too stretched financially to commit to a half off settlement stretched out over a few years, it may be best to let things lay, even if you want to resolve your debt with PRA. If you have no assets, like real estate, and if your current and future income is limited to an exempt source, such as disability or social security, you could be protected from collections even were PRA to sue.
Request Debt Validation From PRA
You have a right to request debt validation from collection agencies and debt buyers like PRA. This right is outlined in the federal Fair Debt Collection Practices Act. Many of us have additional protections under a state law equivalent.
Debt validation is an important right to exercise anytime you are confused about the legitimacy, nature, and balance of a debt. You can learn more about debt validation from the CFPB, a federal agency with regulatory authority over PRA.
You may be reading this article wondering who PRA even is, and why you are hearing from them. It can be a bit confusing when you were hearing from your bank, say Synchrony or Citi, with collection calls and letters, and then suddenly you start getting calls, texts, and letters from PRA.
If you are concerned about whether PRA is the legitimate owner of your debt, a simple phone call to your original creditor to verify they sold your account to Portfolio Recovery can help you move forward with any debt resolution goal you have with confidence.
Also, if PRA has sent you a collection letter, they will typically identify the creditor they bought your account from, and often part of your credit card number, so you can identify whether you had the account at issue.
Banks have, in recent years, started to notify you of accounts they are selling to debt buyers like Portfolio Recovery Associates. Be sure to open all collection mail you get and keep track of accounts in a journal or file. It is helpful even when you cannot financially tackle an account just yet, to have access to the chain of communications that may have been mailed to you.
If my goal is to settle with Portfolio Recovery Associates, I would not request debt validation before negotiating, as it can complicate that effort.
Portfolio Recovery Associates LLC Files Lawsuits to Collect
It is common to see unpaid debts lead to a civil lawsuit being filed in your local court to try to get you to pay. Your risks of being sued increase based on the banks you owe, and the debt buyers they sell to. Portfolio Recovery Associates is one of the largest, and most active debt buyers suing in courts across the United States.
There is a large network of debt collection law firms across the country that banks and debt buyers tap in to. Once you have an account being handled by one of these outside law firms, your options to resolve or dispute the debt can change, as does the urgency for action.
There is more to think about when you are being sued, but I will focus this feedback on resolving the debt or defending the collection lawsuit.
If your goal is to resolve a debt with Portfolio Recovery Associates, the ideal time is before collection law firms get involved. Once the firm is involved, and even if they have not filed the lawsuit paperwork yet, settlements tend to be more costly, and often do not allow for as much time to make monthly payments.
Like most negotiations, I suggest calling to initiate the discussion, and once you reach a verbal agreement, get the deal in writing before you pay.
If you have been sued already and cannot settle with the PRA attorney for a lump sum, be prepared to sign a stipulation (formal court document) when you need to make monthly payments.
If you are settling an existing Portfolio Recovery Associates judgment, I would typically want to have a lump sum to work with before initiating negotiations.
If you dispute the validity, nature, or amount of the debt PRA sent to a collection law firm, you have options for defending the lawsuit, and using the court discovery process to address your concerns. Using the formality of the court process you have an increased ability to get all supporting documentation of their claim than you typically have with a basic debt validation request mentioned above.
Most of us do not deal with court issues enough to be familiar with the court process, and how to use it to our advantage. It may be best to run your situation by an experienced debt collection consumer law attorney in your state.
The smaller the account balance PRA is collecting on, the more it can become uneconomical to retain an attorney to fight a lawsuit.
Getting Portfolio Recovery Associates LLC Off Your Credit Reports
If you see Portfolio Recovery Associates LLC on your credit reports, you will want to check to see that the original creditor that sold your account is showing as a zero-balance owed. If, for example, Synchrony sold your two-thousand-dollar credit card to PRA, they would typically show a charged off account on your credit with no balance owed, and now PRA would show the balance owed to them.
Negative items on your credit reports have a seven-year shelf life. This means that Portfolio Recovery should be deleted from your credit reports at the same time the charge off Synchrony is reporting falls off. PRA does not get extra time to report.
You can also resolve the debt with PRA and take advantage of their published policy to delete the item from your credit. Whether you pay the amount in full, or settle with PRA for less, they ask the credit bureaus to delete the item.
If you do not recognize the debt PRA is reporting, you can dispute it with the credit bureaus. But if you know the debt is yours, and there is still time left in your state to legitimately sue you in court for collection, I would not try to dispute a legitimate debt on my credit reports with a known aggressive debt collector. It shows I am trying to improve my overall credit and may have bounced back financially and am perhaps a better collection target.
Appearing as a better collection target when there is still time to sue me for collection can be a form of an invitation.
Sending a Cease Communication Letter to Debt Collectors
You have a right to request a debt collector like PRA cease communication with you. I would send that to them in writing if it were me. But I would also think twice about doing this, as PRA will then only be able to continue any collection efforts by suing you if there is still time to do so based on the statute of limitations (SOL) in your state.
If your state SOL is passed, sending a cease communication letter to PRA, or any debt collector at that point, is something I would do if simply ignoring their efforts was overly burdensome.
New rules that will begin in 2021 give companies like Portfolio Recovery Associates the ability to communicate with you in an attempt to collect a debt through text, email, and social media. You will be able to opt out of these methods without sending a cease communication notice, but if you use this letter, it will stop these types of efforts too.
Portfolio Recovery Associates and Your Bankruptcy
You may find Portfolio Recovery Group has purchased your debts after you entered a chapter 13 bankruptcy repayment plan. Debt buyers are already purchasing distressed debt, but buying debts that are part of a chapter 13 repayment plan is uber distressed, so why do it?
If the price is right, it is profitable.
Roughly seventy percent of the people that have filed chapter 13 bankruptcy do not complete it. Some will convert their chapter 13 to chapter 7, where PRA would likely get paid nothing more in that event. But many people drop their chapter 13, and have to look to resolve the debts in the plan on their own. Settling debt for less than what you owe is a good alternative to chapter 13. Ideally you do this before you file bankruptcy, but it is the option of choice if you have to cancel the 13, and still cannot qualify for chapter 7 bankruptcy.
If PRA is trying to collect from you, and you are not sure what to do, we can help. If you want to talk through your options, schedule a call with me using the tab below. We can help you negotiate the debt for less, and often get you great monthly payment terms on the agreed settlement. We can connect you with experienced attorney resources that can help you too.
If you are hearing from a debt buyer like PRA, you may also be hearing from some others. You can get more information about resolving debt with LVNV Funding and Resurgent, as well as Midland Credit Management.