Paying a Collection Debt – Portfolio Recovery Associates – Qualify for a Mortgage
Hi, I am a medically retired Army veteran from and living in Iowa who was severely injured in 2008 while deployed in Iraq and am now living off of SS and VA disability. I was still married to my ex-wife at the time that I was deployed. In 2010 after returning stateside I attempted to secure a loan for a house, but wasn't having much luck due to my credit score at the time. One of the banks I was trying to get approved with gave me a copy of the credit reports they ran on me and on it there was a collection for US Cellular. I do not recall or believe I ever signed up for US Cellular and noticed that it said "date opened 03/08" which would have been during the time I was still deployed in Iraq. There's no way I opened that account. I suspect that my wife at the time may have opened it using my info and maybe even forged my signature if it was required. I wouldn't put it past her.
I also noticed it said "last active 05/10", the same month that the credit report was run, "reported 05/10", and "collection 06/08." It said he balance was 485. Well, I didn't know what to do and forgot/ignored it for a while.
I remarried and in 2011 my new wife and I looked into applying for a USDA loan program, but my credit was still not quite high enough, and over the phone USDA did a courtesy credit check and mentioned I would need to get the US Cellular debt cleared up.
We were having hard times financially so still couldn't do much about it, but all the while I don't think we were being contacted by creditors or collections about it that I remember. We never answer phone numbers we don't recognize though. So now this year not even a month or so ago my wife got my free credit reports from the 3 bureaus and to our surprise hardly any of the negative things that had been on my credit were showing up any more, including the US Cellular one, and my credit score was up to the low to mid 700s, much better than the previous 2 years!
I assumed either my ex-wife maybe paid the account or enough time had elapsed and it dropped off. With my much improved credit we quickly found a house and have been approved for the loan with no problems and are set to close in early December. But now just today (October 31) my mother brought over a letter from Portfolio Recovery Associates, LLC dated Oct 19 offering a discounted by 25% settlement amount on the $484.80 debt with US Cellular to be paid by Nov 16. My ex wife and I had lived with my mother at one point so I assume that's why they have my name at my mother's address, maybe my ex listed that address when she opened the account. It says to get 25% off I have to call a 1-866 number to sign up for a free account with payoff.com and to redeem my redemption code. Also says "your account will be considered 'settled in full' once your payment has posted." Portfolio does give their address, disputes address, and email. Side note, I think I remember our home loan officer maybe saying something about needing to not acquire any new debt between time of contract and closing on our house because something like they'll check credit again to make sure it hasn't fluctuated much or something like that. And I've heard that paying old debt can actually lower your credit for some reason.
What should I do if 1) I don't believe I incurred this debt? 2) My ex wife possibly incurred the debt in my name somehow? 3) As of most recent credit report I have (and apparently the recent one ran by our loan officer) it was no longer showing on report 4) I'm not sure what type of debt this is and therefore what the statute of limitations is for it (for IA I've read for written it's 10yrs..would that mean the SOL has not passed in my case)? 5) If the SOL has not expired, though it was dropped from my credit, should I just go ahead and pay the balance or the 25% off settlement amount since I don't want to fight my ex anymore or would that hurt my credit to pay it now, like I've heard it can? 6) If I do pay it off, should I wait till after we close on our house in case it would somehow drop my credit score and cause a problem in closing on our loan, even though the letter says it's due Nov 16? Or could I be sued if I don't pay it by Nov 16? This is all very confusing! Thanks for your time!
—Brandon
It is certainly a bit odd that the collection account from Portfolio Recovery Associates (PRA) on your credit report would be there in 2010, 2011 and then suddenly not appear in 2012. I have a theory for what may have happened that I will share below.
Let's look at the PRA collection account and take this one thing at a time:
You did not open the account and if this were still on your credit report you could file a consumer dispute with the credit reporting agencies that you were a victim of identity theft and have that attached to your file. You could even take this further and file an identity theft complaint against your ex wife.
You could dispute the debt as not yours (cause it's not – you were a victim of identity theft) and hold anyone reporting the debt to the credit bureaus and the bureaus themselves to the standard that they can be held to in order to prove the debt is yours, or remove it.
The debt is not on your credit report right now, and you have a specific goal of closing on the home loan in the very near future. The 2 steps above would not be necessary. I point those 2 things out for future readers, and also because the Portfolio Recovery Associates or US Cellular negative reporting actually could show back up on your credit report later, after you get the mortgage and close on the home loan. If the account went bad in 2008, the negative reporting time line for credit reporting purposes would not expire for 7.5 years, so there is a few more years to go on that.
Letter from Portfolio Recovery Associates LLC offering settlement on the debt:
You saw that the letter informs you have a right to dispute the debt. If you were to send a dispute letter to Portfolio Recovery saying the account is not yours, or request validation of the debt, they would have to meet their requirement to investigate your dispute and/or respond to you with proper validation of the debt. That would be hard for them to do, since you did not incur the debt and are a victim of identity theft.
When you request validation or dispute a debt, no further collection action can be attempted until Portfolio Recovery Associates meets their obligation under the FDCPA. This would include reporting the debt to credit reporting bureaus. If they updated the bureaus to show the collection account all over again without having properly investigated your dispute and meeting their obligation to validate the debt, you would be able to file an action against them. If you lost the home loan as a result, you would likely be able to show damages.
Taking PRA up on their offer to settle US Cellular for 25% off.
If you were to take advantage of the settlement offer from Portfolio Recovery you would not be taking on new debt. It would be considered taking care of old debt. You are correct that settling a collection account can, oddly enough, bring DOWN your credit score. The knock on your credit score from doing a responsible thing, like paying off a debt, is because it lends "freshness" to a "stale" item on your credit report. The credit score drop is often pretty brief, lasting only a few months.
If you are working with an experienced mortgage broker, they can normally help navigate an issue like resolving an old debt to still get your loan through.
If you are seriously considering settling the debt with PRA, the letter can be viewed as the first offer. You can, in my experience, get the amount reduced to a lower pay off than the 75% of the balance that they put on the table.
Your question about the statue of limitations in Iowa and whether they will sue you for the debt is a good one. I just don't know how much you have to worry about that. Here is why:
A letter direct from Portfolio Recovery Associates means the account is not with an attorney. As a general rule, you would receive a dunning letter (a collection letter demanding payment), from a debt collection attorney firm first. If you were to get one between now and closing on the home you could send a validation request in this instance too. Here again, it would be pretty difficult to validate a debt that was not taken out by you.
What to do now about the PRA collection/offer to settle letter with an eye on getting the home loan approved?
If there is nothing on the credit report now, and I were in your shoes, I would not mess with anything until closing on the loan unless something pops up. If something did pop up I would probably dispute the debt with Portfolio Recovery Associates and the credit reporting agencies that show the account. I would outline that I am a medically retired veteran and that I never opened the account and demand strict proof that I had. I would document all of that and keep my loan officer in the loop.
If the loan closes like clockwork, I would wait for the next collection attempt, or the item to reappear on my credit, and then dispute it.
I mentioned above I have a theory as to why this stuff is no longer on your report. The CFPB began publishing their intent to supervise and regulate debt collectors and debt buyers of a certain size earlier this year. Portfolio Recovery Associates, LLC will be within the enforcement purview of the CFPB starting the first week of January 2013. Part of what the CFPB will be looking for when investigating companies like PRA will be how they furnish information to the credit reporting agencies. There would be an astronomical cost for PRA to individually review all of the debts they purchased and report as collection accounts on credit reports of the debtor. In order to prepare for any investigation, it may have proven quicker and less costly to start purging some of the accounts they were reporting on. It would certainly make them look proactive in front of a very serious regulator.
Comments and follow up questions on this topic are welcome by all below.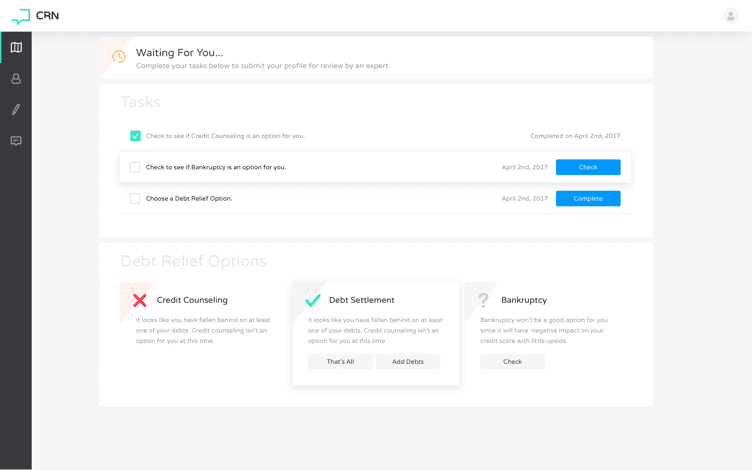 Get a Settlement Estimate
If you've fallen behind on your payments, then we can help you settle them with your creditor directly through our platform.
Get Estimate
Start Your Debt Relief Profile
Getting out of debt is confusing. Signup today to get a free debt consultation and we'll show you your best path out of debt and help you get there.
Get Started
Have a Quick Question?
We have experts standing by to answer any questions you have about debt settlements, lawsuits and judgements.
Ask a Question