The debt settlement and negotiation sections make up the largest portion of the debt relief and credit guides published on this site. That is because debt settlement does not fit into a tidy package like consolidating credit cards, consumer credit counseling, or bankruptcy. I thought it important to have an introduction to debt negotiation due to the amount, and variations of content, you will find here.
The concept of settling unpaid debts like credit cards is not overly complicated, though it is certainly something that cannot fit on a single web page. And once you introduce the different stages of debt collection; and how to negotiate with debt collectors vs your bank; or outline what you can do when settling collections in the court; the content for the debt settlement guide grew larger, and continues to expand.
Credit cards are the most common type of debt that can be negotiated and settled for less than the total balance owed. Much of the debt settlement guides focus on this from of unsecured debt for that reason. But there are many other types of debts that the guides can be applied to. You will find guides related to settling business debts, medical bills, personal loans, and more, throughout the site.
How to get the most out of the debt settlement guides.
We highly recommend you read through the debt settlement program using the order we have placed all of the topics in. This will allow you to gain the maximum level of understanding of what credit card debt settlement is, how it will work in your specific situation, when settling debt works best, or even why you will avoid debt settlement all together. This recommendation includes any of you reading that may have committed to settling credit card debts that you stopped paying some time ago.
Following the recommended outline for settling credit cards is suggested because:
Debt settlement as it is explained by the media, and what is probably more than 10,000 websites, often does not scratch the surface of the topic (it cannot be explained sufficiently in a single article).
A debt settlement company selling their program to anyone who will listen will often fail at giving you a detailed outline of what they are trying to sign you up for. Opting instead to put profit or sales commission goals in front of your need to be adequately informed.
You should understand the fundamentals of settling debt so you can weigh the benefits and the drawbacks with clarity – before negotiating and settling debt yourself, or hiring a professional.
Following the way we have laid out this section, no matter what stage of collection you might be in (and especially if you are still current with payments to creditors), puts you in the best position to succeed with debt settlement.
Once you complete your review of the debt settlement guides you will know more than the majority sales people who are the front line for selling debt negotiation to the public.
As you progress through the debt settlement sections there are links to supplemental reports. These reports describe a particular topic or concern in detail. The reports are critical to review if you choose, or have already chosen, debt settlement as your path to debt relief. Click and read them as they are referenced throughout any of the debt negotiation guides, or read them after you have completed your review.
Before you jump into the rabbit hole that is debt settlement.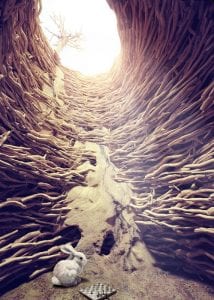 CRN advocates settling credit card debt as a personal financial solution. We have provided debt settlement education and debt negotiation services since 2004. We are good at it. We have made our customers, members, and readers good at it. We are also not your Aunt Mildred's debt settlement company (no offense Mildred).
We have decided to create and publish the online debt relief program for many reasons. We may fully lay out more of the reasoning in a later update to this section, but for now, here is some of the consideration we have in doing this:
Debt settlement works for the right person and the right situation. Debt settlement does not work for the wrong person, nor does it work well for the wrong situation.
There are people who want to take your money to help you settle your debt. There are creditors and debt collectors who want you to pay them, and they are willing to take less than what you owe.
We decided to create and publish the CRN debt relief program so that you can tell the difference between whether settling credit card debts is right for you, and if it is, when, why, and how much of your money to put into this method for resolving debt. We hold nothing back. We offer our support freely to the public through dedicated feedback in the comments on virtually every page of the site.
If we can save you from making uninformed debt and credit decisions that can hurt, rather than help you, we want to. If we can save you money when you settle credit card debts, we will.
Continue on with the debt settlement guide with – What Is Debt Settlement
If you would like to talk with me about your situation, and whether debt negotiation and settling for less is right for you, you can reach me at 800-939-8357, press option 2, or you can submit a consult request. And as you will see throughout the site, I respond to reader questions and comments throughout the day, so feel free to post yours for feedback..